Traditional, sensitive management
The landscapes of Surrey have been grazed for centuries and this has played a crucial role in shaping some of our most precious habitats. The Trust continues this practice to help preserve them today.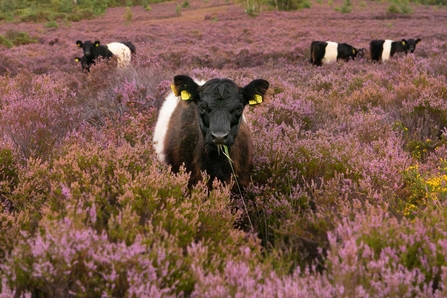 Grazing with cattle

© Jon Hawkins

The Trust's black and white Belted Galloway cattle are now a familiar sight across much of Surrey.

Grazing is the most natural method of looking after the landscape and the way that cows feed creates a greater variety in the habitat, allowing species such as nightjars, heath tiger beetles, reptiles and cotton grass to thrive.

Belted Galloways are the ideal breed of cattle to graze our sites. These hardy cattle originate from the lowlands of Scotland and have a proven track record in grazing both heathland and chalk grassland. 

Although predominantly grazers, the breed eats a greater degree of scrub and browse than many other cattle types. They don't graze as selectively as sheep and ponies, helping to remove coarse grasses and create a greater variety of structure in habitats. Their bulk also enables them to create areas of bare ground and break up dense vegetation. 

The Trust's Belted Galloway cattle can be seen on a variety of sites including Chobham Common, Wisley Common, Whitmoor Common and Ash Ranges.
Grazing with red deer

© Jon Hawkins

Pirbright Ranges is adjacent to a live firing range and owned by the MOD. It is also a wildlife rich heathland habitat. 

Access is heavily restricted for safety reasons, which makes it challenging to manage the habitat with conventional techniques. The solution - use red deer, a native species that is ideally suited to the heathland and woodland habitats found on the Ranges.

Although once widespread throughout Surrey, Red Deer in the county are now mostly restricted to deer parks and a few small, wild herds. 

The deer are doing a magnificent job in managing the amounts of pine, birch and gorse on the heath as well as creating a diverse structure in the regenerating heather. As a result, nightjar, woodlark and Dartford warbler populations are on the increase. 

The Trust maintains the herd at around 200 animals and uses special vehicles and camera traps to monitor their welfare.

July 22 Wildfire

In July 2022 Pirbright Ranges suffered an extensive wildfire covering some 650ha of the reserve. It is expected to take over a decade for the site to recover to its former condition.
Grazing with sheep

© Marcus Wehrle - Surrey Wildlife Trust

A current focus for our grazing team is to develop a new crossbreed of sheep. By combining the characteristics of Boreray and Wiltshire Horn sheep, our goal is to establish a breed that embodies wool-shedding traits, a gentle temperament, and effective grazing and browsing behaviours.

Boreray originate from the Outer Hebrides, are small in size with wild deer like behaviour. They are excellent browsers, are very hardy and can shed their wool. Wiltshire Horn are a native, large traditional breed that are very docile and also wool-shedding.

The ability of our sheep to naturally shed wool will lessen the need for chemical intervention by reducing the risk of fly strike, while their shorter fleece prevents unwanted entanglements. Their light footprint also minimises any environmental impact in wet conditions.

In 2023 our first crossbred lambs arrived, and time will tell whether they have the behaviours and traits we're looking for.

These sheep will support chalk grasslands and wildflower meadows of our east and central Surrey reserves, curbing the growth of the coarse grasses and thatch which threaten to dominate these habitats if left uncut.

The adept browsing of sheep also aids in managing scrub and bramble, further enhancing habitat health. By creating open spaces for less dominant species and regulating nutrient levels, they will help to maintain the delicate balance of the ecosystem.
Why do we use conservation grazing?
The continuation or reintroduction of grazing is vital for the survival of  habitats such as heathlands and chalk grassland. Many of the flora and fauna that exist within these landscapes now rely on this type of management to survive.
Livestock grazing is also beneficial as it has a less instantaneous impact than burning or cutting. The animals can also access areas which machinery can't. Much of Surrey's remaining chalk grassland is on steep slopes, so sure footed animals are a more successful management tool than vehicles.
Become a member to continue our work
Nature is in trouble. Becoming a member is the best way to support our work protecting the wildlife you love in Surrey.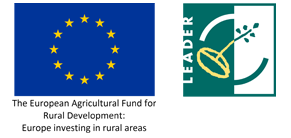 Equipment to assist with management of our conservation grazing scheme is part funded by the European Agricultural Fund for Rural Development