Protect the wildlife you love
Join a community of like-minded people striving to protect Surrey's wildlife and wild places
Becoming a member is one of the best ways to support our work protecting wildlife where you live - both on our nature reserves and through our work with other landowners, local communities and schools across the county.
Surrey Wildlife Trust's work inspiring people to love nature has never been more important. If we are to protect nature in the future we have to put people at the heart of it.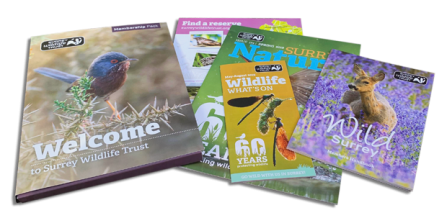 Great member benefits!
You'll receive great member benefits including FREE guided walks and discounted events and courses. Members also receive our Wild Surrey members handbook, Surrey Nature magazine and What's on guide three times a year. Plus, get 15% off at Cotswold Outdoor and discounts with other partners. 
Family membership
Great for getting kids interested in nature! Wildlife Watch is the junior branch of the Wildlife Trust movement. Members receive four issues of Wildlife Watch magazine a year, as well as posters, stickers and a wildlife handbook.
How your membership helps wildlife
84p in every £1 is spent directly on nature conservation. 12p goes on securing extra funding for our work and 3p is spent on governance of the Trust.
Don't want to join online? Feel free to print our Direct Debit form and post it to us