We are currently reviewing events in line with government advice and hope to run our Holiday Clubs this year. Please see below for booking details, and understand that the situation may change subject to advice at the time.
Holiday club activities with a wild twist!
Jam-packed with different wildlife-themed activities, our holiday club events give your children the opportunity to explore the wonderful woodland habitats of our private nature reserve under the guidance of our experienced staff. 
Following the huge success of another year of fun and friendships, we are looking forward to a whole new year of holiday adventures for 2021!
Wild Explorers Holiday Club: 5-11 year olds
Immerse your child in nature!
Wild Explorers Holiday Club is the perfect place to embark on adventures, forge friendships and turn school holidays into lifelong memories!
Wild Rangers Conservation Club: 11-17 year olds
Join our ranger team and get into the real conservation!
Help us manage our ancient woodland reserve and learn skills including tree felling, coppicing and habitat surveying as well as fire lighting, whittling and carving.
About Wild Explorers Holiday Club

Suitable for children aged 5-11, our hugely popular holiday club continues to be a highlight of the year. With one-off days in half terms, and longer programmes in the summer, you really do need to book early to secure a place! 

Our half term days are packed with the children's favourite activities from the summer - shelter building, mammal trapping and of course Forest School - as well as some new exciting activities to keep it fresh! They vary each time, so check the event page (under dates and online booking below) to see exactly what we'll be up to each time.

Our summer programme consists of three three-day weeks with activities Tuesday to Thursday. Activities vary between the days but the afternoon is always Forest School themed fun where we head to our Forest School area where we will have free time to spend with our new friends as we wish. There will be a range of games on offer, as well as creative projects which can be done over multiple days for those who come for more than one session.
About Wild Rangers Conservation Club

Suitable for children aged 11-17, Wild Rangers Conservation Club is designed to be the perfect way to develop your enthusiasm for nature - from investigating species in different habitats to sharing your experiences by making your own mini nature documentaries. We can adapt the day to what you want to do.

In the afternoons we can relax around the campfire and learn to use tools like bowsaws, billhooks and bushcraft knives for carving and whittling.

Booking is essential and places are limited, so see dates and online booking below to find out when the next event is happening!
Important information

The clubs run from 9.30am-3.30pm and booking is essential. They take place at Nower Wood Education Centre, near Leatherhead (map can be found on booking pages).

Every attendee will need to wear appropriate outdoor clothing and strong boots for working in the woods. They will also need to bring a packed lunch and a snack, and please note we are a nut-free centre, so avoid food containing nuts.

Although adults are encouraged to drop their children off, due to staffing limitations if your child requires 1:1 assistance at school you will need to provide an accompanying adult for the event. If your child has any other particular needs, please do get in touch so we can discuss how best to meet these before booking.
Dates & online booking

Make sure you've read the Important Information section above and then click below to book your places.

Wild Explorers Holiday Club

 
Thursday 18th February 2021
CANCELLED

Tuesday 13th April 2021

Wednesday 14th April 2021

Summer Holiday Club 2021

October Half Term
Book here

 

| Wild Rangers Conservation Club |   |
| --- | --- |
| Tuesday 16th February 2021 | CANCELLED |
| Thursday 15th April 2021 | Book here |
| Summer Holiday Club 2021 | |
| Thursday 28th October 2021 | Book here |
My daughter loved the Wild Explorers week at Nower Wood. She came home smelling of smoke, dirty faced and proudly displaying her pom-pom caterpillar. Couldn't stop talking about all the things she's learnt, done and eaten!
Booking enquiries
Please see above for holiday club dates and to make a booking online. If you have any questions about our holiday club, please get in touch:
Email education.centres@surreywt.org.uk
Call 01372 379509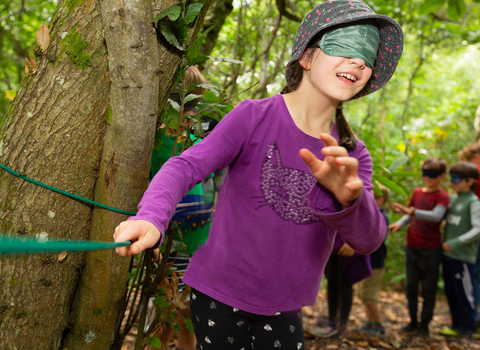 Wild birthdays!
Surrey Wildlife Trust's nature themed birthday parties are stuffed with fun activities and wild games!
Find out more