The role of SBIC
Surrey Biodiversity Information Centre (SBIC) collects, manages and disseminates information on the flora, fauna and habitats of Surrey.
The Centre was established in 2004 and is one of a growing network of local environmental records centres around the UK. We are a small but dedicated team of ecologists and environmental data management experts with a passion for all aspects the natural environment. SBIC is managed as a partnership project, hosted by Surrey Wildlife Trust and seeks to hold as comprehensive a record of the wildlife of Surrey as possible.
What we do
Surrey has a vibrant and energetic recording community with many independent recording groups and societies. By building relationships with these groups and the wider network of naturalists, ecologists and recording schemes, SBIC acts as a focus for biodiversity information in the County and by understanding the needs of the wide range of organisations and individuals that require access to biodiversity data either through their work or their leisure activity, we aim to facilitate the use and understanding of biodiversity records in Surrey.
The Centre holds as its core belief that informed decision making and a better understanding of the landscape of Surrey can only be achieved through access to relevant information on the distribution and abundance of species and habitats across the County.
Recording Service
If would like to share your records with us there are many ways in which you can do this.
The basic information we will need is "What, Where, When, Who".
We would be happy to discuss the best way for your to submit your records.
For more information please contact surreybic@surreywt.org.uk.
Enquiry Service
Surrey Biodiversity Information Centre (SBIC) Enquiry Service has been established as a service for local authorities, developers, ecological consultancies, educational establishments and the general public to supply information about the biodiversity of Surrey.
A detailed report on sites and species can be requested using our Enquiry Service Request Form however please read the following guidance notes together with our formal Charging Policy, Data Coverage Statement and Terms and Conditions of Use before submitting a request.
Please Note: SBIC will be closed over the Christmas and New Year period.
For Enquiry Service reports, the last dates on which we can guarantee delivery before Christmas are therefore;
Thursday 9th December for our Standard (10 working days) service and,
Monday 20th December for our Priority / Fast Track (3 working days) service (by Close of Business, i.e. 5:00pm, each day)
Any requests received after these dates will be processed in early January.
Search Area

A data request can be based on any of the following:

Radius from central point
Buffer along linear route or around site boundary
Administrative boundary (e.g. parish or district)
Site only, without radius or buffer

Please ensure an accurate Ordnance Survey grid reference is provided for the centre of the site (at least six-figure). If appropriate, a map may also be submitted with the form which clearly shows the boundary of the site. Reports will be produced based on the information provided. If this turns out to be incorrect, we may charge an additional administrative fee to reproduce the report.
Enquiry Service Report

Our main product is an data search report in PDF format. This gives a complete overview of a site and includes maps showing statutory and / or non-statutory designated sites and a series of tables containing protected/designated species data.

Species data is split into the following tables:
Protected (i.e. any species protected by either national and / or international legislation),
Notable (i.e. species with a relevant conservation designation e.g. IUCN Red List, Nationally Rare / Notable etc.),
Priority (i.e. species classified as either Species of Principal Importance (S41) or UK BAP Priority species),
Invasive non-native species records.

You can choose to restrict a data search to just one species, for example bat records at a 2km radius
Charges

Although SBIC is partially funded by a consortium of partners, this does not cover all costs incurred by the Centre. As a result, it is often necessary for SBIC to charge for work it undertakes.

Charging by SBIC is however kept to a minimum and wherever possible enquiries are free of charge to the following clients:

"Not-for-profit" enquiries for the general public, educational establishments & students and local natural history groups. Please note this does not include requests intended to be used as supporting evidence for a proposed planning application. Similarly, we reserve the right to make a charge to cover SBIC staff time for complex or lengthy searches.
Enquiries for funding partners where the data enquiry service is specified to be used by the partner.

All other enquiries will be chargeable at the following rates, unless exceptional circumstances are found to justify a partial or complete reduction of costings. All charges will be subject to VAT.

Sample Charging Rates (around a central point or for small sites up to 5ha)

Standard 1km Search Area: £150

Standard 2km Search Area: £200

Split Search Area (e.g. 2km sites, 1km species): £175
Reverse Split Search Areas (e.g. 1km sites, 2km species): £200
Additional Bats (e.g. 2km standard search, 5km bats): Additional £25
Single Species up to 2km Search Area (e.g. Bats Only): £100
Single Species up to 5km Search Area (e.g. Bats Only): £150
Species data in Excel (in addition to our standard report): £25
Priority / Fast Track 3 Day Service (Standard Service 10 days): £50

Please note, this list is not intended to be definitive. Searches around larger sites or along linear routes will be quoted for on an individual basis, as will other 'bespoke' enquiries.

After completion of the enquiry, an invoice is raised by our host organisation Surrey Wildlife Trust for the value agreed with the client. This will typically occur at the end of each calendar month.

Payment is preferably done by BACS using the bank details shown in the Charging Policy. Payment by Debit/Credit Card over the phone is only accepted with prior agreement.

Charges for data are applied regardless of the number of records returned, however if no records are returned then the agreed fee will be waived.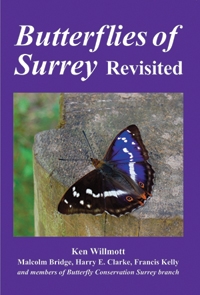 Surrey Atlas Series
SBIC also publishes the Surrey Wildlife Atlas series. Written by local naturalists who are also national and international experts in their field, each title provides a summary of our current knowledge on the status, distribution and natural history of a particular taxonomic group.
Titles have included Butterflies, Larger and Smaller Moths, Dragonflies, Bees, Wasps and Ants and most recently, Soldierflies and their Allies. Each title also includes a series of high quality colour plates illustrating the diversity and beauty of many of the fascinating species which call Surrey home.
Surrey Biodiversity Information Centre (SBIC) Privacy Policy
View full policy

1.    Who are we? We are the Surrey Biodiversity Information centre (SBIC) – the local environmental records centre (LERC) for Surrey. We can be contacted during normal office hours (typically between 9:30am - 4:30pm) at surreybic@surreywt.org.uk , Tel: 01483795448

2.    Our commitment to your privacy SBIC is committed to keeping the personal details of our supporters and data providers safe. This notice explains how and why we use personal data, to enable you to be informed and in control of your personal information.

3.     Why do we collect personal data? We will only ever collect store and use personal data when we have an identified purpose and reason to do so. The Information Commissioner's Office (ICO) refers to this as a 'lawful basis'. There are six lawful bases – of these the three that apply to SBIC's use of personal data are defined by the ICO as:

a.    Consent: The individual has given SBIC clear consent to process their personal data for a specific purpose.

b.    Contract: Processing is necessary for a contract we have with an individual, or they have asked us to take specific steps before entering into a contract

c.    Legitimate interest: the processing is necessary for our legitimate interest unless there is a good reason to protect the individual's personal data which overrides those legitimate interests.

4.     Our uses of personal data

a.    To fulfil any contractual obligations to our customers We maintain records of contract details for our customers (including public sector bodies, voluntary sector organisations, individuals and commercial bodies) and will utilise this information for the fulfilment of contracts. We may contact our customers to inform them of the range of relevant products and services we offer (e.g. Enquiry service)

b.     To administer biological data that you have shared with us The name of the original recorder forms a vital part of any biological record, if you submit wildlife records, we may use your personal data to assist with the validation and verification of the records you submit, We may also include your name (but only your name) as part of a wildlife record in our reports to trusted partners.

c.     To enable you to volunteer with us If you are an active volunteer, we collect your personal data so that we can keep in touch in relation to any aspect of your volunteering.

d.     To send you information about our work We may send you information about our work that we feel will be of interest to you. This includes but is not limited to; newsletters, emails and information on surveys, events and training opportunities. From time to time, we may also use your personal data to ask for your opinion about our work. Anyone can opt-in to receive these updates, including individuals with whom we have a relationship under a, b, or c above. Regardless of the legal basis on which we hold your data, we respect your right to update how, or if, we get in touch with you at any time and so you will always have the option to "opt-out".

5.    What personal data do we collect, and how do we collect it?

a.    Basic information We will only collect and hold basic information about you, including your name, postal address, telephone number and email address. This data will be collect directly from you; in person, by telephone and in writing or email. Occasionally this information can be obtained from external sources; however, this can only occur when you have given permission for such information to be shared.

b.    Sensitive personal data We do not normally collect or store sensitive personal data about active volunteers. However, there are some situations where this may need to occur. If we do collect sensitive data it will be made clear to the volunteer why it is required and only with the specific consent and permission. Volunteers may be asked for further information about themselves, for example: References, Criminal record check, details of emergency contacts, and medical conditions.

c.    Children and young people In line with data protection law, we will not collect, store or process your personal details if you are under 13 years of age; unless we have the express permission from your parent or legal guardian to do so.

6.    How do we store your data?

a.    Security All of the personal data we hold will be stored accordance with the guidance issued by the ICO. Paper records are stored securely within our premises. Electronic data are stored on secure computer systems and we control who has access to information (using both physical and electronic means). We have set data protection procedures which are required to be followed when handling personal data.

b.    Payment security Payment for services, e.g. Purchase of one of SBIC's publications or any service reports, will be processed via either Surrey Wildlife Trust web shop or Surrey Wildlife Trust invoice/ finance systems. In all cases any personal data collected as part of these transactions is stored safely and securely in line with our host body the Surrey Wildlife Trust's policies and procedures.

c.    Data retention security We will only use and store information for as long as it is required for the purposes to which it was collected.

7.    Your rights We respect your right to control your data. Your rights include.

a.    The right to be informed: This privacy notice outlines how we capture, store and use your data. If you have any questions about any elements of this policy please contact us.

b.    The right to access: If you wish to obtain a record of the personal data we hold about you, through a Subject Access request, we will respond within one month.

c.    The right to rectification: if we have captured information about you that is inaccurate or incomplete, we will update it on request

d.    The right to erasure: You can ask us to remove your personal details from our records.

e.    The right to restrict processing: You can ask us to stop using your data.

f.    The right to data portability: You can ask to obtain your personal data from us for your own purpose.

g.    The right to object: You can ask to be excluded from marketing activity

h.    Rights in relation to automated decisions making and profiling. For more information on your individual rights, please visit the ICO's website

8.    Making a complaint SBIC aspires to a high professional standard in all of its business activities; however, we accept that there may be times when we do not meet our own high standards. When this happens, we would always wish to be informed, in order to deal with the situation as quickly as possible and put in place measures to prevent similar events from occurring again. Should you have a complaints about the use of your personal data by SBIC please contact us immediately (see section 10 for contact details)

SBIC takes complaints very seriously and will ensure that:

a.    Everyone in our organisation knows what to do if a complaint is issued.

b.    All complaints are investigated fairly and in a timely fashion.

c.    Complaints are, wherever possible, resolved and relationships are repaired

d.    We learn from complaints and feedback to help us to improve what we do Confidentiality – All complaint information will be handled sensitively, and in line with relevant data protection requirements Responsibility – Overall responsibility for this policy and its implementation lies with the SBIC Manager (Alistair Kirk), or where the complaint may relate to the SBIC Manager, the Director of Biodiversity (Sarah-Jane Chimbwandira).

Information Commissioner's Office – For further assistance with complaints regarding your data, please contact the Information Commissioner's Office, whose remit covers the UK     

Via Post: Information Commissioner's Office, Wycliffe House, Water lane, Wilmslow, SK9 5AF     
Via telephone:  0303 123 1113     
Via Email: casework@ico.org.uk

9.    Leaving our website We are not responsible for the privacy practices or the content of any websites linked to our website. If you have followed a link from our website to another website you may be supplying information to a third party.

10.    Getting in touch Should you wish to find out more about the information we hold about you, or about our privacy policy please contact us.     
Via Post: C/O Surrey Wildlife trust, School Lane, Pirbright, Woking, Surrey, GU24 0JN     

Via telephone: 01483 795448     
Via Email: Surreybic@surreywt.org.uk

We will regularly review and update this privacy notice Version:

SBIC privacy notice v2.0 Created 23/05/2018