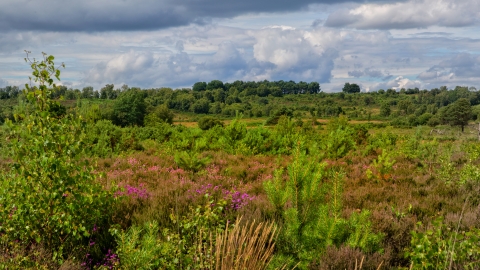 Chobham Common is one of the finest remaining examples of lowland heath in the world. Public access managed by Surrey County Council, conservation managed by Surrey Wildlife Trust
Know before you go
Entry fee
Parking charges apply
Parking information
Chobham Common is served by 6 car parks. Please see locations below. Please note that there is currently no parking available for horse boxes
Grazing animals
Cattle
Access
Public access managed by Surrey County Council, conservation managed by Surrey Wildlife Trust
Access – During the summer a hard track is available from Longcross car park for suitable mobility vehicles.
When to visit
Opening times
Open at all times
Best time to visit
May to September
About the reserve
Chobham Common isn't just beautiful, it's formidable. The largest National Nature Reserve in the south east of England is a wonderful example of lowland heath, one of the most ancient and characteristic British landscapes, originally created by prehistoric farmers. For over 200 generations rural communities have carefully managed this stunning open countryside, creating a wonderful, wildlife rich patchwork of mini-habitats. The few surviving heathlands are very special places providing a living link to our stone-age past. 
Bring your binoculars and see how many you can spot of the 100 different bird species recorded here. These include the very rare Dartford warbler, the hobby and the nightjar. If flora is more your thing, you'll enjoy more than 300 species of wild flowers. Sweeps of purple flowering heather and sweet scented gorse dominate the heathland, while the wetlands harbour insect-eating sundews and rare marsh gentians. 
If you come in mid-summer, you're likely to find several species of native orchids around the heathland verges. Watch out for frogs, toads, newts, adders, grass snakes, common and sand lizards, slow worms, 25 species of mammal and 33 species of butterfly. Stay quiet and tread softly and you might see foxes and deer. 
Chobham Common is also one of the best British sites for insects, spiders, ladybirds, bees and wasps. Some 29 species of butterfly live here, including the rare silver-studded blue, and 22 types of dragonfly hover and dart above the heathland pools. 
All in all, a wildlife paradise that's too good to miss.
Parking
Please note that parking charges apply at Chobham Common
There is currently no parking available for horse boxes
Car parks:
Staple Hill Car Park - Staple Hill
Jubilee Mount Car Park - Staple Hill
Long Cross Car Park - intersection of Staple Hill and Longcross Road
Fishpool Car Park - Fishpool road
Monument Car Park  - Chobham Road
Roundabout Car Park - intersection of Chobham Road and Chertsey Road
Environmental designation
National Nature Reserve (NNR)
Site of Special Scientific Interest (SSSI)
Special Areas of Conservation (SAC)
Special Protection Areas (SPA)
Upcoming events at Chobham Common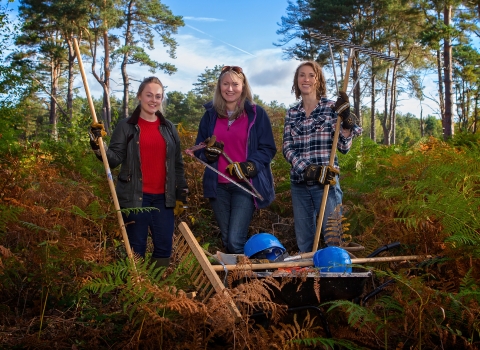 Volunteer
Join a network of like-minded people helping to protect Surrey's wildlife and countryside.
Find out more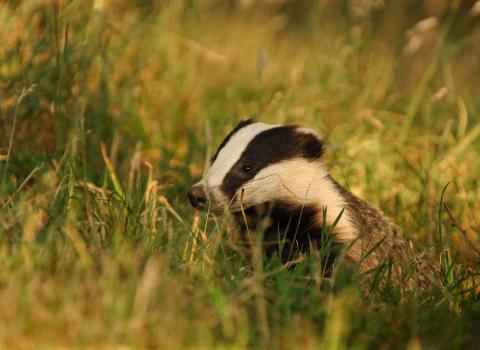 Join us
Join a community of like-minded people striving to protect Surrey's wildlife and wild places.