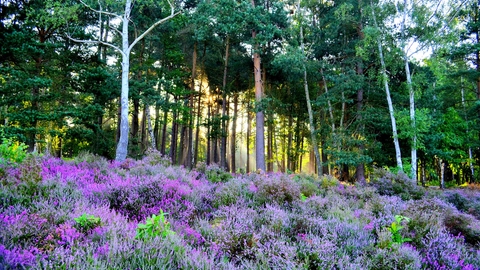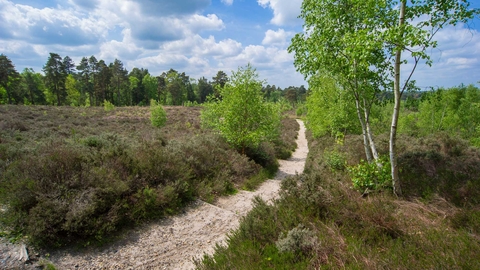 Wisley & Ockham Commons & Chatley Heath
Rare heathland habitat by the side of the M25. Managed on behalf of Surrey County Council. Public access managed by Surrey County Council, conservation managed by Surrey Wildlife Trust
Know before you go
Parking information
Parking at Boldermere Car Park (KT11 1NR), Pond Car Park (KT11 1NR) & Wren's Nest Car Park (GU23 6QA)
Grazing animals
Cattle
Access
Public access managed by Surrey County Council, conservation managed by Surrey Wildlife Trust
Not suitable for wheelchair users or those with limited mobility
When to visit
Opening times
Open at all times
Best time to visit
June to September
About the reserve
Getting to these remarkable reserves isn't a problem. At the junction of the M25 and the A3, they are within easy reach of visitors from across the south-east. Take a drive here and you'll be rewarded with more than 800 acres of heathland and woodland.
It is a nationally important site for dragonflies and damselflies, with twenty species recorded. It also attracts many rare birds, including the hobby, which is one of the few creatures that can actually catch dragonflies.
You'll see how we are managing the valuable heathland to make sure that birch and Scots pine don't take over. Surrey has lost 85% of its heaths in the last 200 years, so we work hard to protect the remainder. Ideally, we use grazing cattle, but we also cut shrubs and seedlings and clear some of the woods that were once heathland. It initially looks harsh, but the bare soil is soon covered with purple heather.
Take time during your stay to visit the Semaphore Tower on Chatley Heath. It was once part of a chain which was used to pass messages between the Admiralty in Whitehall and the Royal Naval Dockyard in Portsmouth. It was built in 1822 and is now the only restored surviving tower in a line of signalling stations that covered the entire route.
Due to ongoing maintenance the Tower is not currently open to the public.
Facilities at Boldermere car park
Car Parks
Parking at Boldermere Car Park (KT11 1NR), Pond Car Park (KT11 1NR) & Wren's Nest Car Park  (GU23 6QA)
Species
Habitat
Environmental designation
Local Nature Reserve (LNR)
Site of Special Scientific Interest (SSSI)
Special Protection Areas (SPA)
Upcoming events at Wisley & Ockham Commons