A bug's life
Invertebrates make up the majority of animal life on earth, with some 40,000 species in the UK alone!
The miniature world of insects is full of creatures with amazing abilities, all battling to survive on a very big planet.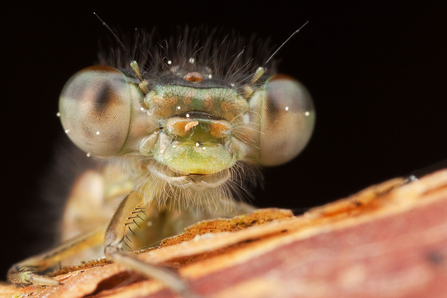 Dragons & damsels
There are 17 species of damselfly and 23 species of dragonfly resident in the UK, with the occasional visitor from continental Europe. Found in almost every habitat, these fearsome aerial predators bring a splash of colour just as wildflowers and butterflies are winding down. And for the birdwatchers that hang up their binoculars before the big migration events of autumn, they provide another burst of wildlife watching activity to rival any bird flocks.
Emperor dragonfly

© Stephen Duffy

The Emperor Dragonfly is an impressively large and colourful dragonfly of ponds, lakes, canals and flooded gravel pits. It flies between June and August and even eats its prey on the wing.
Broad bodied chaser

© Vicky Nall

The Broad-bodied Chaser is a common dragonfly that can be seen in summer around ponds and lakes, and even in gardens. It lives up to its name: its flattened body gives it a fat, broad look.
Golden ringed dragonfly

A voracious predator that will even eat other dragonflies, the Golden-ringed Dragonfly is the UK's longest species. It can be found around acidic streams in moorland and heathland habitats.

© Fergus Gill/2020VISION
Beautiful demoiselle

© Guy Edwardes/2020VISION

The Beautiful Demoiselle can be seen flitting around fast-moving rivers. The males are metallic blue and the females green, but both lack the distinctive dark wing bands of the Banded Demoiselle.
Banded demoiselle

© Mark Hamblin/2020VISION

The Banded Demoiselle can be seen flitting around slow-moving rivers, ponds and lakes. The males are metallic blue, with a distinctive dark band across their wings, and the females are a shiny green.
Large red damselfly

© Richard Burkmar
Beautiful butterflies
Summer is one of the best times of year to see beautiful butterflies.
Hunt the majestic and elusive purple emperor at Sheepleas, see the delicate Silver-studded blue flitting amongst the heather on many of our heathland sites, or find the rare small blue on on Howell Hill - Surrey's stronghold for the UK's smallest butterfly. If you're lucky, you might even spot the painted lady, a pretty summer migrant from the continent.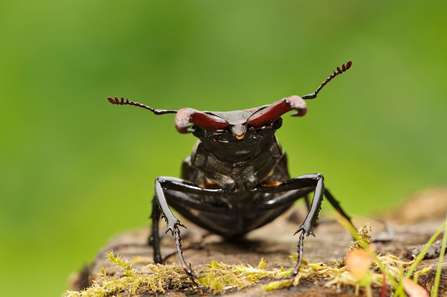 Fighting stags
Famous for its fearsome jaws, the stag beetle does not have the bite to match
Look for it in woods, parks and gardens during summer. Males display their massive jaws to attract females and duel with their rivals. It prefers oak woodlands, but can be found in gardens, hedgerows and parks. The larvae depend on old trees and rotting wood to live in and feed on, and can take up to six years to develop before they pupate and turn into adults.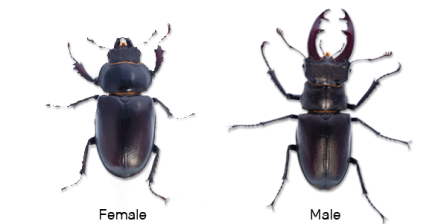 More amazing insects
Top sites for amazing insects