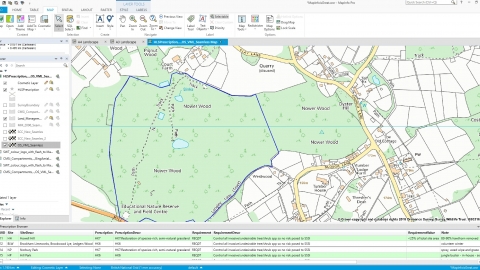 GIS for Beginners: Mix of live training and online tuition.
Location:
Nower Wood Educational Nature Reserve,
Mill Way,
Leatherhead,
England,
KT22 8QA
Book
Learn to use GIS software to analyse data and present it in a practical format.
About the event
If you are a teacher, surveyor or simply enthusiastic about capturing and manipulating data then it is vital that you know about GIS (Geographic Information System).  This introductory course will explain how and why it is such an important tool when analysing data.
We have found that some people learn this specialist topic more effectively in a face-to-face setting.  Therefore, we have scheduled this course to initially take place at our Nower Wood Educational Nature Reserve.  The follow up session that will take place one week later, will be an online event.
For this course to work effectively, each delegate will need to bring with them a laptop that is relatively up to date.  We have found that older models cannot process the required data as effectively.  For the follow up session YOU WILL NEED TO HAVE 2 SCREENS – ONE OF THEM CANNOT BE A PHONE.  Therefore, a tablet and a laptop or 2 computer screens will be the only suitable setup.
This course uses QGIS, a free software, which must be downloaded onto your own laptop prior to the course. We will provide tablets for use in the data collection exercise on day 1 of the course.
As mentioned, this course takes place over 2 days, one week apart.
Day 1 – Wednesday 24th November 2021 
10am-4pm (at Nower Wood)
AM – There will be an initial presentation accompanied by comprehensive discussions about the practical elements of the software.  You will then complete activities using the software which will teach you how to use the basic functions and answer simple questions.
PM- Using tablets provided by SWT, you will spend the afternoon collecting data samples from the woodland using techniques discussed in the morning.
Your tutor will set some 'homework' using these techniques that will then be shared and discussed the following week.
Day 2 – Wednesday 1st December 2021
10am – noon (online zoom meeting)
We will use everyone's homework data to create our own maps and learn how to produce clean, professional looking end products. You will be shown where to find data online, where you can continue your learning and get a brief introduction to ArcGIS Online and Storymaps.  To finish you will have the opportunity to share concerns, ask specific questions and discuss any relevant issues.
All delegates will need two screens for the second part of the course.
Tutor Profile:  Ben Siggery
Ben is a passionate freshwater ecologist who specialises in aquatic plants and invertebrates. He began as an Education Volunteer in 2014, but has now worked for the Surrey Wildlife Trust since 2016 as an Education Officer and as a GIS Analyst since 2018.  Ben's work ranges from pond dipping with school groups, to speaking at conferences and conducting detailed analysis of Surrey's habitats. Recently his work has focused on habitat connectivity and natural capital.
Ben holds an MSc in Aquatic Conservation, Ecology and Restoration from University College London, extending his 1st Class Honours BSc in Environmental Geography. During his time at UCL, Ben specialised in freshwater conservation as well as studying Environmental GIS and the role of paleoecology in conservation. He continues to work closely with academic staff with the aim of publishing the findings of his MSc Thesis, which focused on the benefits of pond restoration to biodiversity, through the study of aquatic plants and beetles.
In his spare time, Ben puts on his waders and assists with the Trust's RiverSearch and wetland projects, conducting habitat and botanical surveys.
Refund policy
Refunds up to 30 days before event
Booking
Price
members £70, non-members £82
Suitable for
Adults
Know before you go
What to bring
You must bring an up to date laptop with you on the first day of the course.  You must have 2 screens for the second day of the course (a phone will not work as your second screen).
Please bring a packed lunch on the day.
Parking information
plenty of free parking is available