Surrey Wildlife Trust cares for wildlife across 7000ha of land in Surrey, including some of the county's top nature reserves.
The sites under our care are home to a wide range of habitats and wildlife and include ancient woodland, heathland, species rich grassland and wetland.
These landscapes require careful monitoring and a range of techniques to ensure that they are managed and improved for wildlife. Aided by an army of volunteers, the Trust's countryside team spend their time caring for our sites.
Our key land management partners include Surrey County Council and the Ministry of Defence. We also work with a range of private landowners to advise them on managing their own sites for wildlife.
Despite our proximity to London, Surrey remains one of the country's most biodiverse counties, with a stunning mixture of landscapes from the chalk meadows of the North Downs, to the vast heathlands of the Thames Basin. 
Internationally rare heathland

Surrey has over 3,500 hectares of this internationally important habitat and the Trust cares for 64% of it.

The Trust manages several important heathland sites including Wisley & Ockham Commons and Chobham Common - the largest National Nature Reserve (NNR) in the south east.

Lowland heathland is only found along the fringes of northern Europe and is protected under European legislation. Without active management, open heathland quickly reverts to woodland, leading to the loss of habitat for important species such as the Dartford warbler, nightjar, sand lizard and smooth snake.

Our Conservation Grazing Project is just one example of the way that we have reintroduced traditional management practices to reverse the decline of heathland.
England's most wooded county

Surrey has over 12,000ha of ancient woodland, of which the Trust manages some 1,300ha. Many of these sites are legally protected.

Woodlands are important refuges to a number of important species including mammals such as dormice, butterflies like the purple emperor and a whole host of ground flora such as wood anemones, lesser celandine and early purple orchids.

The Trust undertakes a comprehensive woodland management programme, including coppicing, glade creation and sustainable harvesting of timber. We are also in the process of carrying out a county wide inventory of the Trust's ancient woodland.
Chalk grassland - 'Europe's tropical rainforest'

Surrey has some 300ha of Flower-rich chalk grassland, alive with the excited humming of bees and beautiful dancing butterflies. The Trust manages some 15 chalk grassland sites.

Before the Second World War, chalk grassland was widespread, but this habitat has seriously declined. We have LOST more than 80% of our chalk grassland since WW11. This is partly due to changes in the way we use our land. 

At its best, chalk grassland supports such an incredible range of different species that it has been referred to as Europe's tropical rainforest. Many of these species are what we call specialists – they do not grow anywhere else – including stunningly delicate orchids, of which 16 species can be found in Surrey.

Chalk grassland must be managed effectively to stop invasive scrub encroaching. The Trust works closely with other landowners to encourage sensitive management and we are determined to improve chalk grassland habitat in the North Downs – with an ambitious target of creating or restoring over 23ha within the next five years. 
River networks

Several important river catchments are found in Surrey. These include the Mole, Wey and Thames and their various tributaries.

Many of these river systems pass through our sites, but we also work to improve wetland landscapes across Surrey through our RiverSearch project.

Surrey's rivers are on the road to recovery, and we are working hard to bring back iconic species such as otters and water voles.
Sites under our care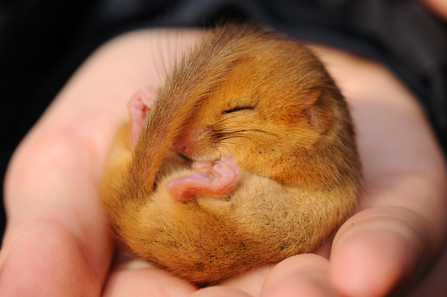 Become a member to continue our work
Nature is in trouble. Becoming a member is the best way to support our work protecting the wildlife you love in Surrey.