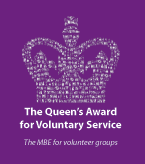 An invitation...
All Surrey Wildlife Trust volunteers are invited to join us in celebrating their hard work and dedication to wildlife conservation
Join us at Bonhurst Farm in Bramley for a series of inspiring talks from wildlife experts, take part in mini surveys, come on a guided walk around the farm and enjoy lunch on us.
The Queen's Award for Voluntary Service will also be presented by the Vice Lord Lieutenant of Surrey.
The cost of this event has been funded through our generous corporate supporters.
The Wildlife Trusts play a very important part in protecting our natural heritage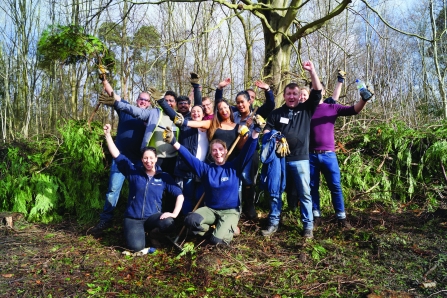 Keynote presentations
Inspiring wildlife talks throughout the day.
Inspired by Nature

Rediscover your passion from nature. Journey back to your first memories of nature and reconnect with the awe inspiring natural world

Aimee Clarke
Director of Education and Engagement

Biography

Aimee came to Surrey Wildlife Trust from Darwin's Landscape Laboratory, where she developed Darwin inspired education projects and resources and assisted with the bid for UNESCO World Heritage Status.

As Director of Education and Engagement she has successfully passed on her enthusiasm for the natural world to inspire tens of thousands of our future generation. She has also project managed the £1.3 million re-build of the Trusts flagship Education Centre at Nower Wood in the heart of Surrey.
Making a Difference - The Value of Volunteering

In this fast passed, consumer focussed world, what makes us want to get back to basics? What value does nature have in our lives and what motivates us to give up our previous time to volunteer?

Doug Hulyer
Environmentalist, Educator & Conservationist

Biography

Doug began his career developing the first educational nature reserve for the Surrey Wildlife Trust.  He moved on to work with the renowned naturalist and conservationist, Sir Peter Scott, at Slimbridge in Gloucestershire.  At the Wildfowl & Wetlands Trust, he explored new ways of engaging people with wildlife including the leading the creation of the London Wetland Centre, the citizen science programme Pondwatch and the international centres programme - Wetland Link International. He was on the board of Wetlands International, and Advisor to the Ramsar Convention and is still a Member of the Commission on Education and Communication for the IUCN.

Doug was one of the founders of the Real World Learning campaign that led to the creation of the Learning outside the Classroom initiative and advised on the Wild Child initiative. He chaired the Public Engagement Group for DEFRA (biodiversity) and was a founder member of the National Trust's Learning and Visitor Experience Panel. 

In 2002, he was appointed to the Council of English Nature, and was a Board member of its successor, Natural England until 2014.  He was formerly a Trustee of NHMF/Heritage Lottery Fund and a member of the SW Regional Committee.

From his eco-home in Gloucestershire he runs a small advisory service to not-for-profit organisations in the environment and heritage sectors. 

Amongst his recent voluntary roles he was Chair of the Earth Trust and of the Steering Group for the Jurassic Coast World Heritage Site and a Trustee of the Woodchester Mansion Trust. He currently Chairs the National Trust SW Region Advisory Board and the Gloucestershire Nature Partnership and remains a Trustee of the Jurassic Coast Trust. He is a Fellow of both the Royal Society of Arts and Royal Society of Biology.
Recovering Surrey's Nature

The State of Surrey's Nature report showed that a third of wildlife in Surrey is either extinct or heading that way. Sarah Jane Chimbwandira will set out the Trust's strategy to recover Surrey's nature in three key areas of the county over the next five years.

Sarah Jane Chimbwandira
Director of Biodiversity, Evidence & Policy 

Biography

After graduating in Zoology at Royal Holloway College Sarah Jane served for two years as a VSO (Voluntary Service Overseas) in Malawi as a secondary school science teacher. 

On her return to the UK she completed a Masters degree in Environmental Management. Currently she manages the Biodiversity, Evidence & Policy department for Surrey Wildlife Trust. This delivers a range of activities including planning advice, ecological consultancy, local environmental record centre, citizen science and research. More latterly her role has focussed on the development of Surrey Nature Partnership which previously published naturally richer: A Natural Capital Investment Strategy for Surrey.

She is a Member of the Chartered Institute for Ecology and Environmental Management as well as a Chartered Environmentalist.  She is also a trustee of the Surrey Hills Society.
Recording Surrey's Nature – Lessons From Sussex WT and the Pan-Species Listing Movement

Enter the Lyons Den and discover the enormous variety of species recorded in just 2 years on 32 Sussex Wildlife Trust sites.

Graeme Lyons
Senior Ecologist, Sussex Wildlife Trust

Biography

Graeme is a Senior Ecologist for Sussex Wildlife Trust where he has for the last decade, been responsible for devising and implementing the monitoring strategy on around 35 sites and providing ecological advise to the site managers based on these findings.

In his spare time he is also a freelance entomologist and ecologist. His passion for wildlife goes back over 30 years and as the founding member of the Pan-species Listing movement where he is currently ranked in 6th place with 7031 species seen personally.

A pan-species list is a list of all the animals, plants, fungi and protists you have seen in Britain, Ireland and the Channel Islands. Whether a Daisy or a Death's-head Hawk-moth, a Killer Whale or a Killer Shrimp, all species count as equal on your pan-species list.

At the end of 2016, Graeme decided to produce a PSL species list for all 32 of the Sussex Wildlife Trust's reserves. This master list is comprised of 32 site lists in a simple matrix with the year of the last record highlighting presence. Add in conservation statuses and you have a powerful tool for encouraging recording, aiding site assessment and management plans and much, much more. I will talk through this list showing some highlights of the last two years, how I did it, how Surrey WT could do it, how to maintain it and who it was that found the coveted 10,000th species!
Walks & Activities
Select your preferred morning and afternoon activity using the booking form below.
Late Summer Visitors - Bird Walk

An educational guided bird walk listening and looking for the last of our summer visitors.

About Ken 

Ken Anckorn spent 23 years with the National Trust first in Northumberland and then in Devon and Cornwall. 

Ken has had a passion for birds since the beginning of his career. He is a highly experienced enthusiast and active member of British Trust of Ornithology.

In 2003 following a re-organisation with the National Trust he revived his ecology skills with an MSc course at Farnborough and joined the ranks of volunteers for Surrey Wildlife Trust, progressing to a paid post as a Ranger followed by 10 years running the ecological planning advisory service to Local Authorities in Surrey.

.

 
Marvellous Moths - ID session

Join Anna Fosbery on a journey of discovery surveying moths and butterflies too (weather permitting) in this farmland site.

About Anna

Anna has spent the past 13 years with Surrey Wildlife Trust engaging and supporting volunteers in a range of capacities.

She came to us from a partner charity, Butterfly Conservation, where in addition to volunteer support, the role covered species monitoring, talks and awareness raising. An amateur enthusiast, she is the go-to person for enquiries about butterflies, moths and caterpillars at our headquarters. Her background also includes heathland wardening and environmental education.
A Year at Bonhurst Farm - Walk & Talk

Learn about the challenges faced at this stunning 240 acre farm and how we use our livestock to benefit wildlife on a guided walk and talk.

About the Grazing Team Steve  & James 

Steve Proud joined the Surrey Wildlife Trust Grazing Team in 2010 to run the Pirbright Red Deer Project having previously worked as a Ranger for the National Trust on Exmoor.

As Farm Manager he manages the grazing team to deliver conservation grazing on over 7000 acres of Surrey's countryside with over 400 cattle, 100 sheep, 160 red deer and 19 goats.

James Stoyles joined Surrey Wildlife Trust in 2014 and has been responsible for four seasons of calving and lambing, successfully intervening when needed to deliver livestock. Should timing work in our favour, James will hopefully be able to introduce week old calves.

 
Passionate About Plants - Walk & Talk

Join expert Mike Waite on a guided walk to discover the fascinating variety of plants at Bonhurst Farm.

About Mike

Mike is our Living Landscapes Manager & author of the State of Surrey's Nature.

After studying Environmental Science & Applied Ecology, Mike became a Senior Ecologist at London Ecology Unit.  9 years later he moved to the Greater London Authority where he was a Senior Environment Advisor on Biodiversity.

An accomplished photographer and biodiversity expert, he is our go to knowledge bank for anything relating to plants and wildlife.
Booking your place
Please use this form to reserve your place at this event and select your two preferred activities for the day.