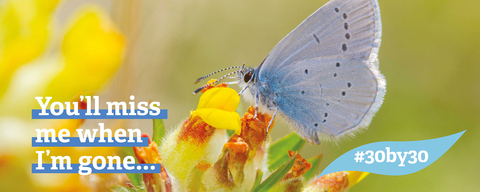 1 in 7 species in the UK face extinction
You can help save them
Make a donation and help us put nature into recovery across 30% of all land sea by 2030.
Make a wildlife donation
Donate to us
Help us restore 30% of nature by 2030
Other ways to donate to us
Send a cheque made payable to Surrey Wildlife Trust addressed to
Fundraising, Surrey Wildlife Trust, School Lane, Pirbright, Woking, Surrey, GU24 0JN
Call us on 01483 795444
Surrey Wildlife Trust is raising funds to work with others to create a 'Wildbelt' of wildlife rich habitat for bees, bugs and butterflies across some twelve miles of the North Downs - that's 30 per cent of the width of Surrey!
This beautiful ridge of chalk hills stretches from Farnham in Surrey to the White Cliffs of Dover in Kent and are home to a very rare habitat – chalk grassland – which has been steadily declining in the UK since the end of the World War Two.
England has lost more than 80 per cent of its chalk grassland which is devastating to pollinators and insects. Now more than ever we must take action, because we are facing a pollinator and insect crisis, with 41 per cent of insects facing extinction. Surrey has some of the fastest declining wildlife populations in England, with one third of its species now either extinct or in danger. This includes local extinctions of some bee species, such as, the shrill carder bee.
Our vision is to expand flower-rich chalk grassland and wildflower meadows along the North Downs so they become alive with the humming of bees alongside beautiful bugs and butterflies dancing from flower to flower.
Working with councils, landowners, charities, farms, vineyards, schools and community groups, we want to restore the historic chalk ridges between Guildford and Reigate, which were once needed to protect us in case of enemy invasion in World War Two. They are still needed today to protect our health and wellbeing and to protect the future of our bees, bugs and butterflies in Surrey.
Donate to us
Help us restore 30% of nature by 2030
We promise to spend your donations wisely
84p in every £1 is spent directly on nature conservation. 12p goes on securing extra funding for our work and 3p is spent on governance of the Trust.