Received Queen's Award for Voluntary Service
Volunteers dedicated 4,370 days during 2019

Hands-on experience
Develop knowledge and hands-on experience in land management
Surrey Wildlife Trust provides a diverse range of practical training from sustainable woodland management, heathland management to conservation grazing, along with many more transferable skills.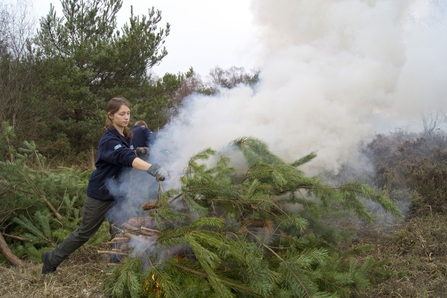 What activities do trainees carry out?
Our placements provide an excellent training opportunity to gain valuable hands-on experience in conservation and land management. Learn to carry out a range of practical habitat management and monitoring tasks on heathland, chalk grassland, woodland, and wetland. Help organise practical conservation volunteer days and learn to lead and inspire our volunteers. You will also have the opportunity to assist with aspects of grazing, including fencing, moving cattle, and stock checking.
About the placement
We take up to two trainees twice a year in April and again in September. Anticipated commitment for this role is 3 days a week for 12 months, which will be agreed upon from the onset of the trainee role. Trainees have the opportunity to undertake a selection of funded external and internal training courses as well as on-the-job training. Out-of-pocket travel expenses are provided alongside appropriate protective clothing. 
Since the scheme started back in 2008, around 90% of trainees have successfully moved into paid employment in the conservation sector. Employers have included the National Trust, Exmoor, and South Downs National Parks, Natural England, and the City of London Corporation.
Trainee stories
Read what some of our trainees have to say about their experience
Michael Jones

As someone with a big interest in the natural world and some volunteering experience, a placement with the Surrey Wildlife Trust was the perfect opportunity for me to learn and develop the skills required to feel confident that I might just be able to forge a successful career in conservation.

I was made to feel part of the team from day one and was incredibly well supported throughout my placement. I was assigned a mentor and a personalised training plan enabled me to get the most out of the experience.

The wider team was brilliant in sharing their knowledge with me and answering the questions I had - and, as a really inquisitive person, I had a lot of questions!

Working in a variety of habitats, I was able to learn a range of practical conservation skills: tree felling, fencing, working with livestock, coppicing, surveying, and much more. I also got the opportunity to develop my interest in engagement, through leading guided walks and supervising volunteers. All aspects were backed up with both formal and informal training.

Each and every day was different and having the opportunity to play a part in the Trust's important conservation work was an honour.

It is not an exaggeration to say that my time with SWT was a life-changing year. I learned so much about conservation and met some wonderful and knowledgeable people, who embraced my enthusiasm and willingness to learn. I made some great friends. I had so many brilliant experiences, including working in a river and having kingfishers flying right past me, seeing a dormouse for the first time, and learning how to use a chainsaw - I never imagined I would ever do that!

Since my placement, I have worked for Surrey Wildlife Trust, the Amphibian and Reptile Conservation Trust and Natural England. I am currently working for the Thames Basin Heaths Partnership as Education Officer. My year as a trainee gave me the confidence to apply for jobs in the sector, knowing that I had the skills and experiences employers were looking for.

If you are looking to forge a career in conservation, applying to be a Nature Space Trainee could be the start of something amazing!
Ben Habgood

I felt like I was incredibly well supported, not only by the team I worked with but with every member of staff that I met - very inclusive!

The Countryside team was particularly excellent and made sure I was involved in most day-to-day activities and that I was happy with what I was doing at the time.   

The training placement was very useful and a great way to show to future potential employers that you are willing and striving to continue training and learning. I would highly recommend any of the training courses that both the trainee and the mentor think is appropriate for their development.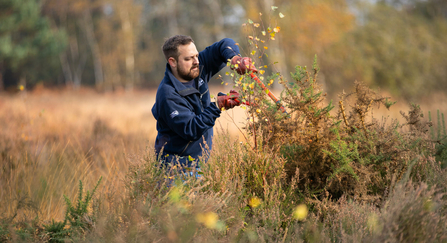 Being a Trainee has given me a behind the scenes insight into the important work that goes on at SWT. There's always something different to do