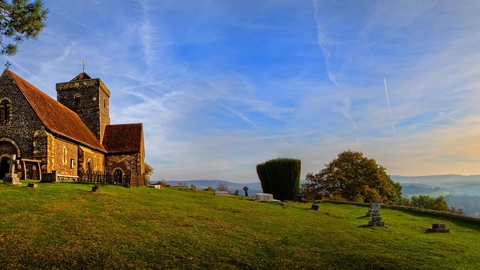 St Martha's Hill & Colyer's Hanger
High in the Surrey Hills. This area of chalk grassland, woodland and remnant heath features a 19th century church and stunning views from the summit. Public access managed by Surrey County Council
Know before you go
Parking information
Car parks off Guildford Lane and Halfpenny Lane
Access
Public access managed by Surrey County Council
Not suitable for wheelchair users or those with limited mobility.
When to visit
Opening times
Open at all times
Best time to visit
May to October
About the reserve
Privately owned by the Albury Estate. Public access managed by Surrey County Council.
Lying on the Greensand overlooking the Tillingbourne Valley, take the sandy paths to the summit of St Martha's Hill for stunning views of eight counties on a clear day. You can also walk from the nearby Newlands Corner, which takes about half an hour.
There has been a church on the site since Saxon times and St Martha's Church was built in the Norman period, before being restored by the Victorians. Legend has it that the name 'Martha' is a derivation of the word 'marty'r and that the hill was a site where pagan Saxons burned Christians.
The sandy hillside is clothed in woodland and part of the 60 hectare site has a rare mixture of chalk grassland plant species and is designated a Site of Special Scientific Interest (SSSI). There is also an area called The Arboretum where, in 1900, the owners of the Albury estate planted exotic cedars, spruces and other softwood trees.
On hot summer days, you might spot adders, grass snakes and other reptiles.
St. Martha's hill has been a site of human activity dating back to the Bronze Age, and there are five, circular banks with external ditches which have been declared Scheduled Ancient Monuments by English Heritage.
Environmental designation
Scheduled Ancient Monument
Site of Special Scientific Interest (SSSI)