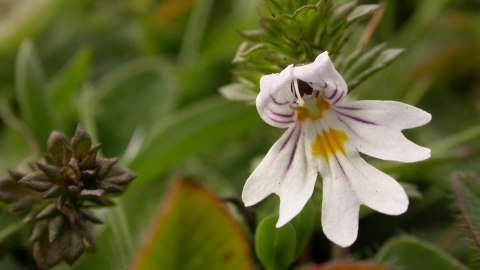 A private nature reserve, this hidden gem on the Hogs Back contains fascinating geology and rare chalk flowers.
When to visit
Opening times
Closed - access by prior permission only
Best time to visit
Not applicable
About the reserve
An old chalk quarry on the southern flank of the Hog's Back, this private reserve is of particular interest for its geology and chalkland flowers and is designated a Site of Special Scientific Interest (SSSI).
The chalk formed in the Upper Cretaceous era some 65-80 million years ago and marks the boundary between the London Basin to the north and the Wealden anticline (where the rocks buckled up into a wide shallow dome) to the south; this is one of the few places in the area where this important feature can be examined.
A working quarry until the 1930s, Seale Chalk Pit was one of a series of small quarries along the Hog's Back, but since its closure, it has been colonised by over 130 species of chalk grassland plants. These include bee, fly, common and spotted orchid, cowslip, spindle, eyebright, meadow cranesbill, cut-leaved cranesbill, red valerian, winter cress, wild teasel, hounds-tongue and musk mallow.
The reserve is a haven for butterfly species, with the holly blue, painted lady, green-veined white, common blue, speckled wood, peacock, brimstone, orange tip and comma all found on site.
Habitat
Environmental designation
Site of Special Scientific Interest (SSSI)