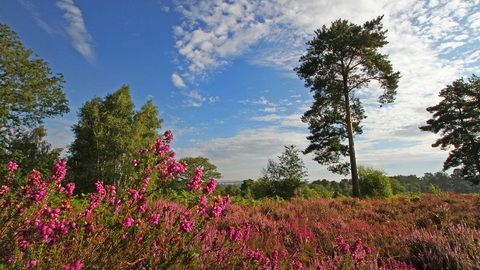 A large heathland reserve with areas of woodland and grassland. Great for birds, butterflies and reptiles. Public access managed by Surrey County Council, conservation managed by Surrey Wildlife Trust
Know before you go
Parking information
Car park off Portsmouth Road (A3100/A283), near the junction with the A3 at Milford
Access
Public access managed by Surrey County Council, conservation managed by Surrey Wildlife Trust
Not suitable for wheelchair users or those with limited mobility.
When to visit
Opening times
Open at all times
Best time to visit
May to August
About the reserve
Records show Rodborough Common was used for grazing sheep and cattle in the late 19th century, as well as for military exercises during the Second World War.
Today the site is a heathland nature reserve with areas of woodland and acid grassland.
Reptiles such as the common lizard and grass snake can be seen, along with many bird and butterfly species including the Silver-studded blue, which is only found on heathland sites. The reserve is also home to several nationally scare inverterbrates.
Also look out for displays of lesser celandine, bluebells and enchanters nightshade in the woodlands in spring.
Car parks
Car park off Portsmouth Road (A3100/A283), near the junction with the A3 at Milford
Environmental designation
Area of Outstanding Beauty (AONB)
Local Nature Reserve (LNR)
Site of Nature Conservation Importance (SNCI)