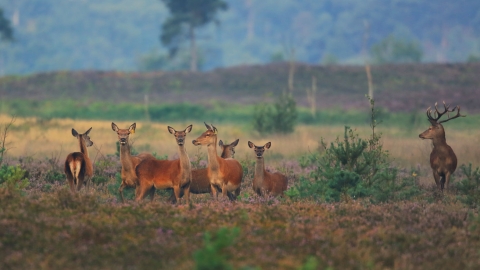 No public access - military training area
A large enclosed heathland site with no public access. Managed on behalf of the MOD, this unique reserve is grazed by a herd of red deer by the Trust.
Know before you go
Parking information
No car park
Grazing animals
Deer
When to visit
Opening times
Not applicable
Best time to visit
Not applicable
About the reserve
Please note that this site is adjacent to a live military firing range and is not accessible to the public.
Owned by the MOD, and bordering Brentmoor Heath, Pirbright Ranges is one of the largest remaining areas of lowland heath in Surrey. It is rich in heathland wildlife, including many rare species.
Pirbright Ranges is a unique site in many ways. Due to the dangers associated with live-fire training, access to the reserve is highly regulated and Trust staff can only enter at certain times using special vehicles.
As a result of this limited access to manage the site, the Trust employs the help of a herd of red deer to graze the site and help stop invasive scrub from reclaiming the heath. These semi-wild animals are well adapted to the local environment and require minimal human intervention.
Pirbright Ranges is of great importance for its bird populations, which include nightjar, dartford warbler and woodlark. The site is also a wintering ground for the great grey shrike.
The site also supports adders, grass snakes, lizards, slow worms and the heath tiger beetle, of which only four colonies exist in Surrey.
Habitat
Environmental designation
SAC SSSI
Site of Special Scientific Interest (SSSI)
Special Protection Areas (SPA)
No public access - military training area with live ammunition.