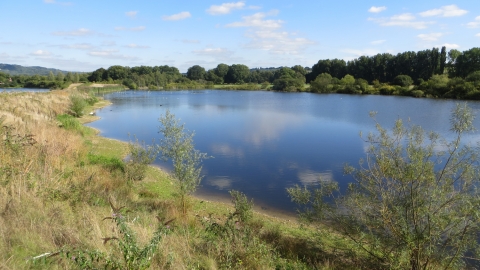 Nutfield Marshes (inc. The Moors, Spynes Mere & Holmethorpe Lagoons)
A stunning complex of wetland reserve with a myriad of birdlife and aquatic insects.
Know before you go
Parking information
Parking at Mercers Country Park, Nutfield Marsh Road
Grazing animals
cattle
Access
Not suitable for wheelchair users or those with limited mobility.
When to visit
Opening times
Open at all times
Best time to visit
May to August
About the reserve
Nutfield Marsh lies in the vale of Holmesdale between the North Downs and the Greensand Ridge and comprises of three wetland nature reserves - The Moors, Spynes Mere, and Holmethorpe Lagoons. These reserves were restored from sand workings along the Redhill Brook and now support a myriad of wetland wildlife.
The Moors 
Although this reserve has no public access, a footpath transects the site. Situated along Redhill Brook, this 21 hectare wetland nature reserve floods from the Redhill Brook during winter and on occasions this creates one large lake, which the footpath crosses. When this happens you feel as if you are walking on water!
Ducks such as mallard and teal flock to feed on the winter flood, whilst moorhen and the shy water rail also creep through the waterside vegetation. Grazed grassland also provides the right habitat for skylark and lapwing to nest.
In autumn, snipe and other waders arrive for winter, whilst in summer the pools are alive with small damselflies such as the banded demoiselle and dragonflies like the southern hawker and emperor. Stickleback, washed in by the flood, provide food for kingfishers and grey herons.
Around the pools the flowers of yellow flag are followed by purple loosestrife and creamy meadowsweet, as well as sedges, rushes and bur reed - a favorite food of water voles.
On the drier meadows cowslip and trefoil, oxeye daisy and yarrow attract feeding bees and butterflies.
Spynes Mere
Spynes Mere is a wetland nature reserve of 14 ha, created from restored sand workings by WBB Minerals, who lease the site to the Wildlife Trust. Before sand was extracted the area was farmland.
Spynes is a very old word, in use before the Norman Conquest to describe the area. It means 'summer fattening pasture'. Today, Spynes Mere comprises of three lakes, which flow into the Redhill Brook.
The biggest lake is home to many waterbirds. They are at their greatest numbers in winter, when tufted duck, gadwall, mallard and the occasional pochard ducks can be found, together with mute swans, little grebes, coot, moorhens and greylag geese. See if you can spot the grey gadwall ducks who quite literally mug the coots when they bob back up to the surface, having dived for waterplants to feed on.
In spring and summer, look out for young waterbirds, in particular the striped humbug-like little grebe riding on the back of their parents. Also listen out for sedge warblers, reed buntings and water rails hidden amongst the swampy vegetation.
In warm sunny weather, the site is alive with dragonflies and damselflies patrolling their territories and egg laying on the water.
Holmethorpe Lagoons
Holmethorpe Lagoon is a Site of Nature Conservation Importance (SNCI) and home to over 144 bird species, including 58 breeding pairs.
Habitat
Environmental designation
Site of Nature Conservation Importance (SNCI)