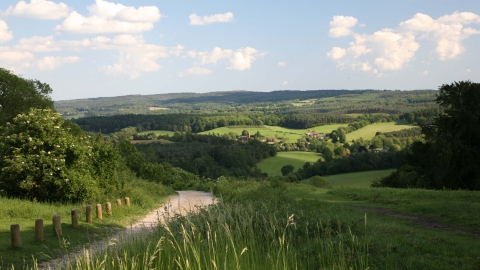 Newlands Corner and Silent Pool
Enjoy sensational views and explore more than 100ha of chalk downland and peaceful woodland. Managed on behalf of Surrey County Council.
Location
Know before you go
Entry fee
Parking charges apply
Parking information
Car parks at Newlands Corner & Silent Pool off A25
When to visit
Opening times
Open at all times
Best time to visit
Year round
About the reserve
These reserves are privately owned by the Albury Estate. Surrey Wildlife Trust manages the area under an access agreement between the Albury Estate and Surrey County Council.
Newlands Corner and Silent Pool are at the heart of the Surrey Hills Area of Outstanding Natural Beauty. Newlands Corner lies on the chalk ridge of the North Downs at a height of over 170m, which gives glorious views across the Weald to the ridge of the South Downs. Below the slope from Newlands car park lies the village of Albury. It's a popular spot for dog walking, cycling, horse riding and family wandering, so you'll rarely be alone here. However, the broad expanses of open chalk downland and mixed woodland offer plenty of opportunities to lose yourself in nature. 
The mighty oaks and ancient yews shelter roe deer and are home to green woodpeckers, nuthatches and tawny owls. In spring and summer, the chalk grassland is a spectacular carpet of wild flowers. In the past the grasslands were grazed, and nowadays they are mown once a year after the plants have set seed. This keeps the grassland open and stops scrubby plants invading. 
About two miles to the east lies the Silent Pool, in a shady hollow surrounded by box trees. It was probably an ancient quarry which was filled by the water from scarp slope springs in the chalk downs. 
Legend has it that the daughter of a woodman drowned in the pool whilst escaping the seductive advances of King John. In the 19th century it was a popular attraction, and still retains a certain eerie charm today.
Parking
Please note that parking charges apply at Newlands Corner.
Upcoming events at Newlands Corner