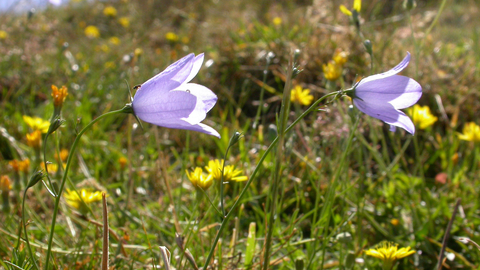 A high area of open grassland on the North Downs with an abundance of chalk grassland flora and fauna and marvellous views of the high Weald. Public access managed by Surrey County Council, conservation managed by Surrey Wildlife Trust
Location
When to visit
Opening times
Open at all times
Best time to visit
May to September
About the reserve
Hackhurst Downs offers marvelous views of the high Weald and plenty of features for those interested in the history of the landscape.
Part of the North Downs, Hackhurst Downs consists of open grassland, scrub and mature woodland. The top of the downs and the dip slope include beech woodland and forestry plantations.
Hackhurst Downs has been designated as a Site of Special Scientific Interest and as a Local Nature Reserve, due to its abundance of chalk grassland fauna and flora.  At times the site is grazed with goats - the perfect animal for the steep slopes.
Notable species of butterfly have been recorded including adonis blue, chalk hill blue, brown hairstreak, marbled white and silver spotted skipper.
The site is rich in chalk grassland flowers including wild basil, wild marjoram, hairy St. John's wort, hedge bedstraw, vervain, harebell, small scabious and mouse-ear hawkweed. 
The site also contains the only sizeable population of juniper on the North Downs.
Environmental designation
Local Nature Reserve (LNR)
Site of Special Scientific Interest (SSSI)