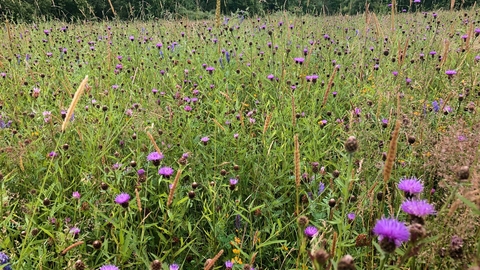 Broadstreet, Backside & Rydes Commons
A mixture of semi-mature birch and oak woodlands and wildflower rich grassland. Public access managed by Surrey County Council, conservation managed by Surrey Wildlife Trust
Know before you go
Parking information
No car park - access on foot via Oak Hill or Broad Street
Access
Public access managed by Surrey County Council, conservation managed by Surrey Wildlife Trust
Not suitable for wheelchair users or those with limited mobility.
When to visit
Opening times
Open at all times
Best time to visit
June-August
About the reserve
In the past the commons had a range of uses including traditional foraging, timber harvesting, growing wheat and potatoes and recreation.
The present day landscape is a mixture of semi-mature birch and oak woodlands, poor acidic grassland and ponds that form a haven for wildlife near the busy urban centre of Guildford. The commons also provide a valuable recreation resource to local people. The large housing estate of Park Barn lies to one side, with Woodstreet Village, Broadstreet, and Fairlands Estate both nestling on the boundaries.
In recent years, thanks to funding from SITA, a number of fields were reseeded with wildflower. After a number of years of seeding and managing these areas, the fields have been transformed into a wash of colour and a cacophony of buzzes, chirps and flutters.
The meadows are now doing fantastically well, with an incredible array and variety of plants and wildflowers including knapweed, sneezewort, tormentil, yellow rattle and meadow vetchling to name but a few.
An even greater variety of invertebrates can be found and include marbled white, ringlet, meadow brown, common blue, large and small skipper butterflies, as well as many crickets and grasshoppers.
Visit between June and August to experience the best this reserve has to offer.