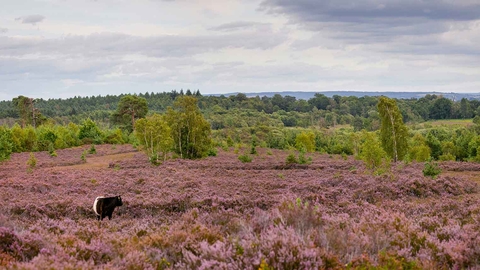 Active military training area - No access when red flags flying/red beacons lit
An extensive area of stunning open dry heathland. Managed on behalf of the MOD.
Know before you go
Parking information
No car park
Grazing animals
Cattle
Access
Not suitable for wheelchair users or people with mobility issues
When to visit
Opening times
Access Not permissible when red flags are flying or red beacons are lit
Best time to visit
May to September
About the reserve
Please note: The Ash range danger area is closed  when the red flags/red lamps are displayed, or when access gates are locked and signage detailing site maintenance is installed. At all other times the Ash 'range danger area' is open to the public for access on foot.
An extensive area of open dry heathland owned by the MoD, Ash Ranges is a haven for numerous rare heathland plant, invertebrate and reptile species such as sundews and the green tiger beetle.
A large open area of heathland with gently rolling hills, the reserve is a spectacular site in late summer when the heather is in bloom.
Ash Ranges is also home to the rare heath tiger beetle which is only found in Surrey and Dorset. Heath Tiger Beetles require a dry heathland mosaic of bare sand, different heights of heather and scrub for food and shelter.
Please note that access to this site is subject to the terms and conditions of the Military Byelaws, which are displayed at all major access points.
View an up-to-date list of Training Estate firing times from the MOD.
Habitat
Environmental designation
Site of Special Scientific Interest (SSSI)
Special Protection Areas (SPA)
Only permissible when red flags are not flying - active military training area, please respect military training activity.