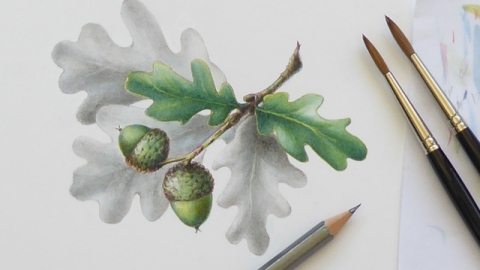 Botanical Drawing and Illustration Techniques
Location:
Nower Wood Educational Nature Reserve,
Mill Way,
Leatherhead,
England,
KT22 8QA
Book
Learn to draw and colour the intricate details of nature.
About the event
Come and learn about illustrating the natural and wonderful diverse world of plants, that are all around us. Botanical illustration requires careful observation and the recording of each subject, whether this be a leaf, skull, feather, bud, root or  seed pod. 
From an initial introduction to botanical shapes and forms, everyone will be able to approach pencil studies and observational drawings with a botanical understanding by detailed recording and through making optional colour notes. Following through to a planned artwork during the afternoon, working in either plain or coloured pencils.
Seasonal botanical items will be supplied to be drawn .
This botanical illustration workshop will be for beginners or those who already have some or more drawing experience.
Tutor Details: Jo Cameron
My background began specifically in Scientific Illustration which included botanical and natural history subjects.
Joanna Cameron Fineart – www.jcfineart.co.uk
Currently as well as my own work and freelance works, I teach and oversee the Postgraduate Medical Artists' Education Trust Programme in Medical art Medical Artists' Education Trust . This is a scientific part-time flexible learning course.
This includes an intensive foundation drawing course which I set up a few years ago i.e. detailed drawing, observation, skeletal and anatomy. All of which apply to any scientific subject, whether it be anatomical, natural history or botanical.
Within this I concentrate on teaching the traditional skills of pencil drawing, observation, watercolour, pen and ink and carbon dust - all being perfect mediums for scientific illustration.
Booking
Price
members £65, non-members £80
Suitable for
Adults