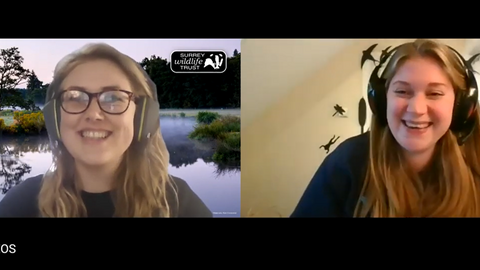 Explorers at Home
Online - joining link before the event
Join our free online nature club for kids as we celebrate World Wetland Day and our amazing rivers!

Event details
Date
-

Time

One Thursday a month: 4pm-5pm
About the event
Explorers at home is a safe online space for budding biologists and nature lovers to meet with our education tutors every month to play games, make crafts and share our love for all things wild.
With challenges and activity ideas to keep them busy and happy all the way until Christmas, Explorers at Home has been well loved since January.
Our activities are aimed at 6-13 year olds and each week has a different theme. The club takes place over Zoom and runs from 4pm-5pm one Thursday a month, normally around the third week. Remember to select all the dates you want to attend, as the joining instructions are emailed separately just before each session.
You can watch all of our previous sessions back for free on our webpage whenever you like... And all the games are designed to work live or in the replay - so there's no missing out at all! 
Upcoming Sessions
18 Nov - Endangered Wonders - details coming soon
9 Dec - Underground Life - details coming soon
Important Info and Booking
Register for free online and we will email a joining link to you before each event. All children will need to be supervised by an adult (although you don't have to be sat next to them the whole time). Webcams and microphones will be disabled for all attendees, interaction with the hosts through chat, polls and other functions will be enabled. Please do not share any personal information in the chat. Our staff reserve the right to remove any attendees who exhibit unacceptable behaviour without warning. The meeting will be recorded by SWT and this recording will be made public after the meeting online and on social media.
Booking
Suitable for
Families, Children