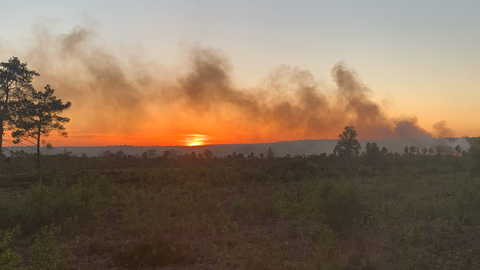 The Impact of Wildfire
Location:
Online event,
via Zoom,
Pirbright,
Surrey,
GU24 0JN
Book
Join Andy Elliot (Wildlife TAC) and Ben Habgood (Surrey Wildlife Trust) to explore the impact of wildfires.
About the event
Over the last few years, we have increasingly seen the devastation of wildfires around the world, and their impact on human life and our wildlife.
Last year, in Surrey one particular wildfire consumed over 74 acres of rare and precious lowland heath destroying habitat which had taken years and years of work to get into favourable condition for rare ground nesting birds and other wildlife.
With climate change and increasing anti-social human behaviour, our heathlands are at great risk of more and more wildfires unless we do our very best to mitigate and educate people about their effects.
Andy Elliot from WildfireTac will share his incredible knowledge and passion for understanding wildfires and their impact on our nature resources and homes.
Following Andy's presentation, Ben Habgood will talk about the impact of wildfires on our nature reserves.
Booking
Price
Free to Members
Non Members - suggested donation

Suggested donation
Suggested donation of £10
Additional booking information
Please book your place to gain access to the online event. You will need to have an EventBrite account to access the content.
Suitable for
Adults, Experts, Beginners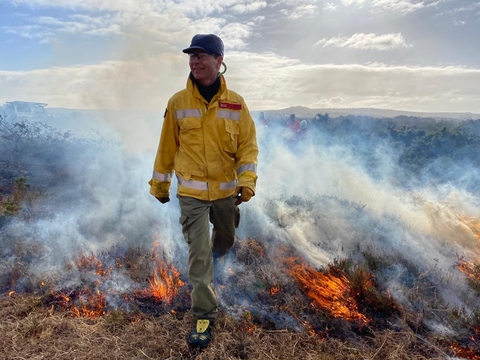 About Andy
WildfireTaC is the culmination of a lifelong passion for wildfire and the need to understand it. Andy Elliott has had two parallel careers, one in Local Government with Dorset County Council and the other in the Fire and Rescue Service for most of his working life. He was made redundant from DCC in 2018 and now has his own Wildfire Training and Consultancy business - WildfireTaC.
His local Government career started in 1984 as a Countryside Ranger where he worked all over Dorset on a wide range of countryside access and conservation projects. He was then seconded into the Geographical Information Systems team and left DCC as the GIS Manager. Since 1983 he has also been a Retained firefighter and is currently a Station Commander with Dorset and Wiltshire Fire and Rescue Service. He is also a National Wildfire Tactical Advisor and is a member of the National Fire Chiefs Council (NFCC) Wildfire Group. During this time, he has gained experience in a wide range of operational activities, but since 1998 he has been specialising in wildfires. He is a Technical Expert in Wildfires with the EU Civil Protection Mechanism.
He has been involved in wildfire research in the UK, Europe and South Africa. This provides an excellent insight into several wildfire issues that could otherwise be overlooked by land managers and the FRSs. He was fortunate enough to spend a month working in the Kruger National Park in South Africa looking into ignition patterns to create different fire intensities for controlled burns. He has also worked on wildfires in the USA, most notably the Valley Fire in California during 2015. He has attended a Training Exchange TREX in, Oregon in 2016 and again in 2017 working on prescribed fires mostly in forestry plantations. While there he gained his wildfire qualifications FFT1 and FFT2. In 2019 he attended TREX Andalucia and presented on Prescribed fires for conservation. He is also an Associate Researcher at the University of Exeter within the wildFIRE Lab. Since January 2020 he has been employed by the University of Exeter as a Senior Research Fellow in Wildfire.