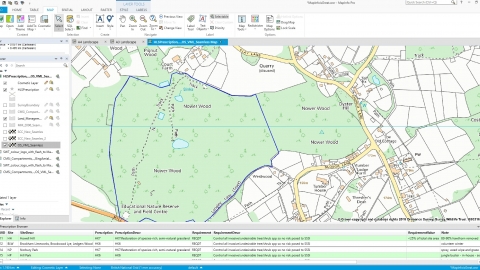 Rescheduled ONLINE-GIS for Beginners: Guide and Application
Location:
Mill Way,
Leatherhead,
Surrey,
KT22 8QA
Learn how to capture and manipulate data using a Geographic Information System RESCHEDULED from 19-01-21
About the event
If you are a teacher, surveyor or simply enthusiastic about capturing and manipulating data, then it is vital that you know about GIS (geographic Information system). This introductory course will explain how and why it is such an important tool when analysing data.
Due to the new covid restrictions stopping delegates from coming to our Nower Wood facility, The Surrey Wildlife Trust is going to come to you.  The tutor for this course, Ben Siggery, has been able to provide a session in which delegates can participate from home.  It will still be a live event with a maximum of 10 students, ensuring as much interaction as possible.
For this course to work effectively, each delegate will require two full screens.  If you already use 2 screens, then you will be fine.  Otherwise, you must have the use of a computer/laptop and a tablet.  Using a mobile phone as the second screen sadly will not work as it will be too small to see the tutors presentation or to work from. 
It is vital that those attending this course are computer literate to a moderate level.
This course will take place over 2 days, one week apart.
Day 1 - Tuesday 23rd February 10am-1pm
There will be an initial presentation and a comprehensive discussion about the practical elements of the software.  Then, some 'homework' will be set using the concepts learned.  You will be given a week to collect and process data collected locally.
Day 2 - Tuesday 2nd March 10am-noon
Here you will have the opportunity to share concerns, ask specific questions and discuss any relevant issues.
We will be using Microsoft Teams to run this course and therefore you will need to download this free app prior to the course.  This application allows file sharing, group communication outside of the course times as well as the ability (when approved by the user) for the tutor to access a delegate's computer to help guide them through any difficult aspects of the software use.
Tutor profile - Ben Siggery
Ben is a passionate freshwater Ecologist who specialises in aquatic plants and invertebrates. He began as an Education Volunteer in 2014, but has been employed by the Surrey Wildlife Trust since 2016 as an Education Officer and has recently taken on a further role as a GIS Analyst contributing to various projects within the Trust. Ben has designed a new educational programme, as part of his role as an Education Officer, to introduce GIS (Geographic Information Systems) and to inspire the next generation of environmental scientists.
Ben has recently acquired an MSc in Aquatic Science from University College London, extending his 1st Class Honours BSc in Environmental Geography. During his time at UCL, Ben specialised in freshwater conservation as well as studying Environmental GIS and the role of paleoecology in conservation. He continues to work closely with academic staff with the aim of publishing the findings of his MSc Thesis, which focused on the benefits of pond restoration to biodiversity, through study of aquatic plants and beetles.
In his spare time, Ben puts on his waders and assists with the Trust's RiverSearch and wetland projects, conducting habitat and botanical surveys. Ben continues to develop his role within the Trust, using his vast range of knowledge and experience to help the state of nature in Surrey.
Know before you go
Parking information
Free parking is available