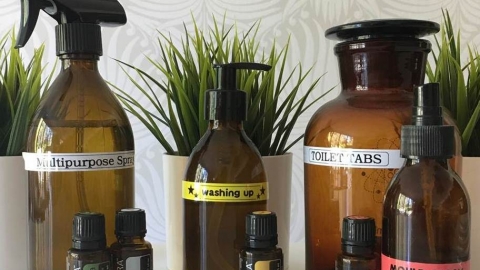 Green Cleaning Products -Make Your Own
Location:
Nower Wood Educational Nature Reserve,
Mill Way,
Leatherhead,
England,
KT22 8QA
Learn to make environmentally friendly cleaning products and take them home with you.
About the event
All Trust events and activities taking place from 1st September onwards will be carried out in line with current government guidelines and Health & Safety practices at that time.  As this will change over the coming weeks and months, we ask that you check regularly on the website for updates as any of these events may be subject to change or cancellation.
Please help to protect our staff and other members by not attending any of these events if you or anyone in your household is feeling ill or have symptoms of Covid-19.
We all want to lead a more environmentally friendly life, but we do not want to sacrifice the cleanliness and hygiene in our homes. That is why Debbie Davenport started making her own eco-freindly cleaning products and now teaches others to do the same.
Join us for a morning session where we will learn:
The importance of using effective natural solutions that are safe for our homes, family and wildlife which helps to lower our exposure to toxic chemicals and protect our health and the welfare of our planet.
What we can do to manage the level of toxins we come into contact with on a daily basis.
How to effectively clean our home, leaving it sparkling, smelling divine and free from bad bacteria while preserving our good gut flora (bacteria).
How using high-grade essential oils can naturally scent your products while offering impressive cleaning results.
How to save money by making your own cleaning products.
Each delegate on this course will bring home the following three items, having made them in class:
250ml bottle of washing up liquid
500ml bottle of bathroom scrub
150ml container of mould prevention spray
All materials, oils and containers will be provided.
Tutor- Debbie Davenport
Debbie is passionate about natural health and well-being and has 25 years experience in coaching – enabling others to bring the best of themselves to whatever they do.
She has been an essential oils educator for the last two years; teaching in a variety of locations and sharing the many virtues of essential oils. Be it healthcare or chemical free gardening; emotional wellbeing or plant infused cooking; balancing hormones naturally or toxin-free cleaning; she loves to share how essential oils can contribute to living more naturally – improving our health and well-being while lessening our impact on the environment.
****Surrey Wildlife Trust – Adult Learning Courses****
Please help to protect our staff and others on this course by not attending if you or anyone in your household is feeling ill or have symptoms of Covid-19 (A temperature; a new, continuous cough and/or the loss of taste or smell).
How we are addressing issues associated with COVID-19 on every Adult Learning course.
We have fully revised our risk assessments to adhere to the Government issued COVID 19 guidelines.
We ask that upon arriving at the centre, the delegates remain in their cars  until just prior to the course start time.(arrangements will be made for those not driving).
We will welcome delegates in our outdoor classroom rather than inside the centre.
The delegate's temperature will be checked on arrival and anyone showing any symptoms which could be COVID-19 related, will be asked to go home. They will be given the option of receiving a course credit, a place on another course, making a donation or a full refund.
All surfaces and any equipment will be fully sanitized prior to each course.
Hand washing and the use of hand sanitizers will be required before entering the premises and throughout the day.
There will be a maximum of 10 delegates on this course.
We will maximise the amount of time spent outside whenever possible.
The doors and windows will remain open during this course to ensure regular airflow.
Classroom seating will be set up ensuring the 1 metre + distancing rules are met.
The tutor will retain a 2 metre + distance from the delegates.  In the cases where this is not possible, a face covering will be worn.
Following government advice, it is suggested that delegates wear face coverings indoors.
Delegates must bring their own packed lunch, water bottle/hot drink and cup. We are a nut-free centre, so please avoid food containing nuts.
We request that delegates notify us if they develop symptoms up to 14 days after attending this course so that staff and other course delegates can be notified.
Booking
Price
members £35/non-members £47

Additional booking information
When the event is fully booked, please join the waiting list and we will be in touch if a space becomes available.
Know before you go
Wheelchair access
This course is suitable for wheelchair users.
What to bring
All material;s will be provided
Parking information
free parking is available.