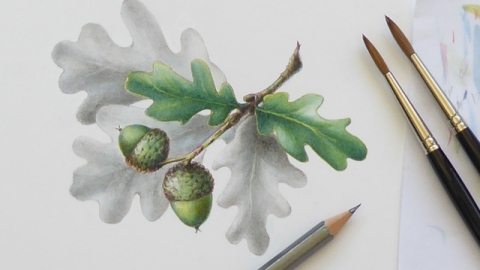 Botanical Drawing & Illustration Techniques
Location:
Nower Wood Educational Nature Reserve,
Mill Way,
Leatherhead,
England,
KT22 8QA
Learn to draw and colour the intricate details of nature.
About the event
Come and learn about illustrating the natural and wonderful diverse world of plants, that are all around us. Botanical illustration requires careful observation and the recording of each subject, whether this be a leaf, bud, roots or a seed pod for example.
From an initial introduction to botanical shapes and forms, everyone will be able to approach pencil studies and observational drawings with a botanical understanding by detailed recording and through making optional colour notes. Following through to a planned artwork during the afternoon, working in either pencil or watercolour, or equally using both mediums together.
Seasonal botanical items will be supplied to be drawn .
This botanical illustration workshop will be for beginners or those who already have some or more drawing and watercolour experience. 
Tutor Details:
My background began specifically in Scientific Illustration which included botanical and natural history subjects.
Joanna Cameron Fineart – www.jcfineart.co.uk
Currently as well as my own work and freelance works, I teach and oversee the Postgraduate Medical Artists' Education Trust Programme in Medical art Medical Artists' Education Trust . This is a scientific part-time flexible learning course.
This includes an intensive foundation drawing course which I set up a few years ago  i.e. detailed drawing, observation, skeletal and anatomy. All of which apply to any scientific subject, whether it be anatomical, natural history or botanical.
Within this I concentrate on teaching the traditional skills of pencil drawing, observation, watercolour, pen and ink and carbon dust - all being perfect mediums for scientific illustration.
Booking
Price
members £60, non-members £72
Suitable for
Adults, Beginners
Know before you go
What to bring
Please bring a packed lunch as well as the following materials:
Drawing materials
A range of pencils between 2H to 6B
Pencil sharpener
Putty rubber
Cartridge paper or sketchbook. Size max A3
Tracing paper (minimum two sheets) Size max A3
Ruler and/or callipers
Optional
Hand magnifying lens
Coloured pencils or watercolour pencils
Painting materials (for those who would like to paint in the afternoon)
Or Watercolour pencils
Paint palette (preferably ceramic)  
Two water carrier pots        
Two artists' quality paint brushes (preferably sable brushes).
Two brush sizes for example: a size 1 and a size 3
or a size 2 and size 4
or a size 3 and size 5
HP Watercolour paper. Minimum 300grms weight. Size max A3
(HP – Hot pressed watercolour paper is smoother than Cold pressed paper)
Other useful items
Masking tape
Craft knife or scalpel
Small cutting mat. Size max A4
Parking information
free parking is available.