Working for wildlife
From ecologists to engineers, communicators to campaigners  there are many different jobs in the conservation sector, which requires people with a varied range of skills.
Whether you are looking to start working with nature as part of a career change, or studying with a careering conservation in mind, below you'll find information on how to gain employment in environment sector and the support available.
Our top tips
The following advice will help increase your chances of securing a job with a conservation organisation.
Be passionate

The conservation job sector is highly competitive. In order to stand out from the crowd you need to be passionate about what you do and this needs to be demonstrated in your job applications and your interviews. If you can demonstrate your love for what you do, it will show the employer that you care and are motivated to succeed. Passion, and a desire to get stuck in, can go a long way, especially if you lack some of the criteria mentioned in the job profile. 
A stand out CV

On your CV, employers are looking for relevant skills, qualifications and work experience which will demonstrate that you are passionate about working in conservation and that you have knowledge of the sector. It is important to have your other experience on your CV too but try to find ways to relate it to the role you are applying for and talk about your transferable skills.

Tailor your CV specifically to the role you are applying for and be sure to show how you meet their essential and desirable requirements. Employers will notice if you have simply copied and pasted your CV across so make sure you mention the specific skills and behaviours that they are looking for.
Experience, Experience, Experience!

Gaining experience in the conservation sector through volunteering, a placement or work experience is a valuable way of gaining specialist knowledge and demonstrating your passion for the environment and will give you a significant advantage.

By spending time volunteering, you will be able to work out what you enjoy doing whilst showing to potential future employers that you are serious about conservation. It is also a great opportunity to make some contacts in the industry.

It is never too early to start getting some experience of the sector so we've listed below some things that you can start doing now to give you a head start when applying for jobs: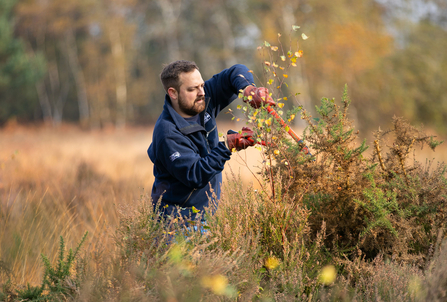 Conservation career FAQs
Below you'll find answers to a range of frequently asked questions from those wishing to find employment in the environmental conservation sector. 
Kindly supplied by Wiltshire Wildlife Trust
Will I be able to get a full time, permanent job?

Yes, permanent, full-time roles are common. However, many roles are funded by shorter-term grants for specific projects so these appear to occur more frequently. Here's what this might mean…

Full time, short-term contract: This means you will work five days a week for a set amount of time, usually between six months and two or three years.
Part-time: This means you will work usually between two and four days a week. This can be permanent or short-term depending on the way it is funded.
Do I need to meet all the criteria requirements on a job description?

This will depend on a number of factors including the type of role and the experience of the person applying. Few applicants will meet every requirement on a job specification (especially when you are just starting out) but what you absolutely must do is demonstrate that you meet enough of them to prove that you are able to do the job.

Employers will often divide requirements into two groups:

Essential: you must (or really, really should) be able to do/have this
Desirable: it would be beneficial if you can do/have this

In most cases, if you do not have all of the 'essentials' you will likely not be considered for the role. Be sensible - if you are missing only one essential requirement but have all the others, it may be worth applying as employers will also consider your experience and other attributes. You can also look at short courses, such as those delivered by the Surrey Wildlife Trust (link to adult learning courses page), to help expand your knowledge and skillset.

On-the-job training is usually offered by an organisation for some of the desirable requirements if a skill/qualification is required to do the job. For example, a trailer licence, chainsaw ticket or a first aid certificate. These training courses are expensive so while it may be beneficial for you to have the qualifications, not having them will usually not prevent you getting the job, especially if the employer likes the rest of your application.
What other things will employers be looking for?

As well as your skills, knowledge and qualifications, employers will also be considering the following in your application:

Do they have the right temperament and attitude for the job?
Does the applicant have the motivation and drive to do the job to the best of their ability?
Is the applicant the right fit/personality type for the existing team?
Can the applicant grow and develop in the role and push the role forwards, beyond what was listed on the application?
Is the application specific to this role? Applications that have been copied and pasted, that don't answer the criteria or that haven't been considered properly by the applicant can be disregarded. Employers want to know that you have a passion for their role.
How much will I be able to earn?

Salaries will vary depending on:

the size of the organisation and their individual salary grades
where you are in the country (London salaries are often higher to match the higher living costs, for example)
amount of experience and level of skill you have
the earning potential of the role and the level of responsibility (usually, the more responsibility a role has, the higher the salary)
If the organisation generates its own income (many employers are non-profit-making charities that rely on income provided by membership fees and external funding opportunities - pay will reflect this.).

Below is a rough guide to the salaries that you might expect: 

Please note that these are only guide figures and are correct at the time of publication in Summer 2021.

Role
Approximate earning potential (full time)

'Standard' and entry level roles:

Nature Spaces Officer
Engagement assistant/officer
Project assistant/officer

£16,000 - £22,000

More senior roles requiring more experience:

Project manager/coordinator
Senior officer
Manager

£25,000 - £35,000

Most senior roles:

Heads of departments
Director/Chief executive officer
Manager of ecological consultancy

£40,000 - £70,000

 

Salaries will be 'pro-rata' for part time staff, meaning it will be a proportion of advertised annual income based on the number of days you work.

A working week of five days is equal to 1.0, so each working day is 0.2. Multiply the total annual income by the number of days e.g. £22,000 x 0.6 (for three days a week) = £13,200
Do I need a degree in a conservation-related subject?

Having any degree shows that you likely have a good number of important, transferable skills e.g. computer literacy, organisation, time management, ability to absorb large volumes of information etc. Having a degree in a conservation-related subject demonstrates that you have a good baseline knowledge of relevant topics and also shows a level of interest in the sector, suggesting that you are interested in pursuing a career in this area.  

However, having a degree is not a guarantee of, or short cut to, gaining employment in wildlife conservation. It is most useful as part a wide portfolio of experience and not as your only experience. 

Furthermore, depending on the role and organisation, a degree is not always essential. It is usually only one of many different criteria on a job description and is often written as:  

'must have a degree in a relevant subject OR have suitable equivalent experience'. 

Again, depending on the role, an applicant without a degree but with a varied portfolio of high-quality volunteering and work/life experience will possibly be considered above someone who only has a degree but no experience. Valuable skills, knowledge and experience cannot be gained from study alone.

It is also worth noting that some trainee schemes exclude graduates in order to support and upskill individuals without higher/further education qualifications. You may want to research these. 

There is no right or wrong answer to this question! Each route has benefits and consequences, but you need to decide which way will suit you and perhaps do some research to help with this.
How can I improve my chances of gaining employment in the conservation sector?

It is never too early (or too late) to start volunteering. Regular volunteering demonstrates your commitment to pursuing a career in wildlife conservation, that you have (or are gaining) relevant skills and that you are able to work in and as part of a diverse team of people.

It is also the best way to find out if you actually enjoy the work before committing to it as a career. You may find, for example, that you don't really enjoy doing practical conservation and that surveying may be more appealing. However, it is important to note that most jobs include an element of public engagement so make sure you get experience of engaging with people of all ages and backgrounds.

If you are under the age of 18, you may need a parent or guardian to accompany you, depending on the organisation. Find some opportunities to volunteer locally with the Surrey Wildlife Trust (add link to volunteering page).

If you are unable to volunteer, consider:

Joining a local special interest group. These often run weekend and evening sessions e.g. mammal, bat, botany, amphibian and reptile, dormouse, bat or wildlife recording groups.

Researching and writing about wildlife and conservation topics. If good enough you may get them published in local and national wildlife magazines.
Attending talks and lectures put on by local wildlife organisations (offer to help out if you can).
Teaching yourself about wildlife by collecting wildlife records for your local biological records centre.
Taking part in awards such as the John Muir Award or The Duke of Edinburgh Award

Ask questions

When you are out volunteering, take the opportunity to ask questions and be inquisitive, this shows that you have a genuine interest and is a great way to learn. Most people are more than happy to help, share their experiences and offer advice.

The only silly question is the one not asked! No one will laugh at you or tell you off for wanting to improve your knowledge. 

Read role descriptions

Knowing what skills and qualities are being asked for by employers for specific roles will mean that you can tailor your volunteering and/or course of study to allow you to meet those requirements and make you a more attractive candidate.

It may be useful to make a list of the requirements for a role you like the look to see if and where you need to improve.

For 'live' jobs, check out the following (others are available):

www.wildlifetrusts.org/jobs
www.countryside-jobs.com
www.environmentjobs.co.uk
www.environmentaljobsuk.com
www.conservationjobs.co.uk

Get a driving licence

Due to the nature of many roles in the conservation sector, being able to drive is often classed as essential, particularly for those roles where you need to get yourself to remote locations either in your own vehicle or in the organisation's vehicle. There are, however, numerous office-based roles that do not ask for a driving licence as a prerequisite (you just have to make sure you can get to and from the office).

Note, almost all vehicles owned by organisations will be manual and not automatic so you will need a full, manual driving licence. You may also be required to have your personal vehicle insured for business use.

Additional licences (minibus, trailer etc.) are useful but not essential and employers will usually provide and pay for training if you need these.

Keep an eye out for traineeships

Many organisations run trainee opportunities that are specifically tailored to recent graduates or people (of all ages) trying to get into the conservation sector. They provide superb opportunities for on-the-job training and a chance to gain real grassroots experience. They are often combined with a qualification, such as a City and Guilds qualification in land management, and sometimes have a training budget to allow you to gain key skills e.g. chainsaw licence or Forest Schools training. Most trainee schemes run for between six and 12 months and can be part-time or full-time. However, they are often unpaid or with a small subsistence grant so you may have to get a second job to be able to support yourself. Some placements may offer accommodation.

Surrey Wildlife Trust offer a 12-month, part-time placement where you are able to gain valuable experience and knowledge in conservation whilst also obtaining a number of qualifications. You can find out more about the opportunity here (link to Nature Space trainee page).

Keep a log of your activities and take photos

Recording your hours of volunteering or work with special interest groups is a useful exercise both for yourself when you write applications and as a folder of evidence that you can take to and talk about at an interview.

It is also worthwhile to take pictures of yourself doing tasks as these can be used as evidence (and are great to look back on). When applying for a job, it is sometimes useful to submit an additional sheet alongside the main application form with a small number of annotated, key photos showing you doing relevant tasks or using relevant bits of kit. Do not include photos on your main application or CV, use this space to fully explain and evidence how you meet the key criteria.

Keep going!

This is a highly competitive field and it is easy to become disheartened if you have been unsuccessful when applying for a number of roles.  No-one likes being rejected and employers do not like having to reject passionate and committed individuals, as these kinds of people are exactly what the sector needs.

As frustrating as it may be, it is often not that you are missing anything from your application but that there was someone with more experience or someone that would be slightly better suited to the role or the team… and one day that will be you! Remember, the more applications (and interviews) you do, the better you will become at them.

Continue to push and build your portfolio of experience, expand your knowledge and your skills. Being committed, passionate and informed about wildlife conservation and active in a local conservation community will get you noticed and help you to make valuable connections. Then it will only be a matter of time before you are the best candidate and earn your dream job!
How we work
At Surrey Wildlife Trust there is such a diversity of roles and so many different ways to get involved with our mission.  
The Trust is made up of individuals from a multitude of backgrounds who all bring different skills to the organisation but are united by their passion and each of our departments are vital in ensuring the Trust operates efficiently and effectively. The descriptions below provide you with a brief overview about each Trust department and their role in supporting the aims of the Trust.
Marketing and Communications

Ensure the work of Surrey Wildlife Trust is shared with the public and help to communicate what's going on and how others can get involved.

Example roles: 

Communications/PR Officer
Digital Marketing Officer
Website & Content Officer
Communications & Marketing Manager
Membership and Fundraising

Look after members of Surrey Wildlife Trust and ensure they are looked after whilst also fundraising for the Trust and ensuring it has funds to carry out the vital work of the Trust.

Example roles: 
Membership Administrator
Grants and Trusts Fundraising Officer
Corporate Relations Officer
Database Manager
 
Reserves Management

Responsible for managing the land that Surrey Wildlife Trust look after and own. They also look after the Trust's cattle and the red deer herd.

Example roles: 

Conservation Manager
Conservation Officer
Nature Spaces Officer
Assistant Stockperson
Farm Manager
Ecology Services and Ecological Planning Advisory Service

An independent ecological consultancy providing ecological advice whilst also conducting surveys and research into the wildlife within Surrey. EPAS comments on and reviews planning applications in relation to the environmental impact.

Example roles: 

Assistant, Senior or Principal Ecologist
Seasonal Ecologist
Ecological Planning Advisory Service Officer
Finance

Ensure the Trust is financially sustainable and the work it conducts can be funded successfully.

Example roles: 

Management Accountant
Finance Officer
HR, Facilities, IT and Administration

Responsible for looking after employees, work spaces and ensuring employees are able to do their job well.

Example roles: 

Director of HR and Support Services
Administrator
People and Engagement

Works to connect people to wildlife through education sessions, managing volunteers and delivering events.

Example roles: 

Education Officer
Events Manager
Community Engagement Manager
Research and Monitoring

Helps to find long-term solutions to the ongoing biodiversity crisis by ensuring science and evidence is used to inform policy and actions.

Example roles:

GIS, Research and Monitoring Consultant
GIS and Data Manager
GIS Officer