Get hedge-u-cated!
Hedgerow Heritage is an ambitious National Lottery Heritage funded project that aims to inspire and teach young budding ecologists, practical conservationists and the wider local community to restore, renew and create hedgerows in the North Downs and Surrey Hills.
Get involved
Register your interest in getting involved with the project below and we'll be in touch as soon as possible.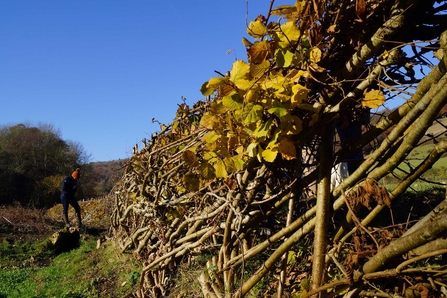 Why hedgerows matter
Hedgerows are far more than just a green barrier
For hundreds of years, generations of hedge layers have maintained the iconic patchwork quilt landscape of hedgerows to mark ownership boundaries, contain livestock and shelter crops from extreme weather. In the past these healthy and well connected networks of hedgerows have been essential habitat providing a source of food, shelter and safe passage for priority species of plants and animals across the landscape.
Today a third of all wildlife in the county is already extinct or heading towards extinction.
Since 1945 the intensification of farming and the trend towards larger fields has meant that half of hedgerows have disappeared from the landscape. In addition 93% of the county's remaining hedgerows are now in poor condition.
Species that rely on hedges
Frequent cutting and poor management of hedgerows is causing a decline in hedge condition. Hedgerow loss and degradation has been identified as a contributory factor in the decline of many species, especially those associated with farmland. 130 species of conservation concern are known to rely on them! 
Butterflies

Species such as the rare black and brown hairstreaks, purple emperor and pearl-bordered fritillary, use hedgerow flowers for nectar or to lay their eggs in the shelter of the plants.
Mammals

Animals like the European-protected hazel dormouse, bank vole, harvest mouse and hedgehog nest and feed in hedgerows. Bats, such as the greater horseshoe and Natterer's bats, use them as green 'commuter routes' for foraging and roosting.
Birds

Woodland and farmland birds such as blue tit, great tit, yellowhammer and whitethroat can be found along hedges.
Hedgerow Survey Map
Use our interactive map below to explore the different hedges our Hedge Surveyors have been working on.
For those looking for a hedge to survey, zoom in and hover over/click on a hedge for the ID number and survey status. You can search for your postcode as well, to see which hedges are nearby!
Get involved
Register your interest in getting involved with the project below and we'll be in touch as soon as possible.