Conservation is our mission
We carry out a host of conservation activities across the county with the help of volunteers and the support of members. We look after some of Surrey's most iconic landscapes and protect and restore key habitats and species. 
However, despite this good work, biodiversity is in decline and a third of Surrey's wildlife is now either extinct or heading that way.
Our reserves remain at the heart of our work - after all, they are the oases for nature from which species will be able to recolonise other parts of the county. But this isn't enough to turn the tide.  Working in partnership with other landowners, public bodies, communities, schools and individuals, we are focusing on 3 key areas of the county called 'Biodiversity Opportunity Areas' (BOAs) to maximise our impact on the ground. 
Biodiversity Opportunity Areas
The Government's 25 Year Environment Plan sets out the need for Nature Recovery Networks. To implement this at a county level we will focus our work through the Biodiversity Opportunity Areas (BOAs). These prioritise the most important areas to take action for wildlife.
Although all BOAs are equally important, our analysis has shown that the Trust should focus its finite resources on three key BOA areas over the next five years. In each area, we are creating a group of land managers who work together to achieve the space that nature so desperately needs.
Working in partnership
We work with a wide range of partners including; Guildford Borough Council, Mole Valley District Council, government agencies such as the Environment Agency and Natural England, the National Trust, farmers, private landowners and foresters. All with the aim of preserving and creating, wildlife friendly natural habitats.
BOAs 2018-23
Backed by serious research and monitoring activity, the BOAs that we are working in for the next five years are the Thames Basin Heaths (purple), The North Downs (orange) and Holmesdale (green).
Thames Basin Heaths

Lowland Heath is one of the rarest habitats in the UK. Less than 200 years ago, much of the west of Surrey would have been heathland. This habitat is now highly fragmented by development and it is vital that we protect what is left and restore as much as we can. Given the constraints imposed by development, these targets will not be easy to achieve. The key opportunity to achieve the heathland creation target is in the Wisley and Ockham heaths.

Targets:

Create a further 60ha of heathland / acid grassland
Create a further 4ha of wet woodland
Create a further 7ha of fen
The North Downs

The iconic North Downs between Guildford and Reigate form our second set of BOAs and are part of the Surrey Hills Area of Outstanding Natural Beauty. We will work to support and develop the existing partnership between land managers in this area that will deliver our targets. This includes local farmers, the National Trust and the Surrey Hills AONB.

Targets:

Create or restoring 24ha of chalk grassland
Restore 4ha of beech and yew woodland
35% more of mixed woodland being actively managed
Create or rejuvenate 4.75km of hedgerows
Holmesdale

Holmesdale presents an opportunity to work with the aggregate industry and other partners to restore threatened areas of wetland. Our approach will start by focusing on restoring the ecological integrity of our Bay Pond reserve, much of which is a SSSI. This will require us to work with land managers and communities upstream to reduce sediment and nutrients flowing into the pond.

Create or restore 6.75ha of floodplain grazing marsh
Create 1.75ha of standing open water
Create or restore 2.75ha of reedbeds
Create or restore 9ha of heathland / acid grassland Create or rejuvenate 2km of hedgerow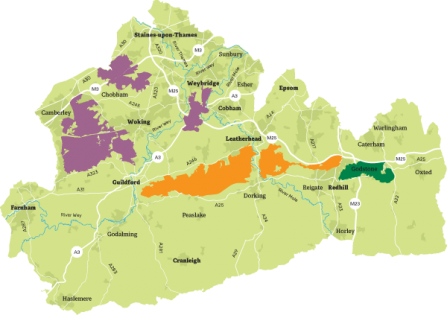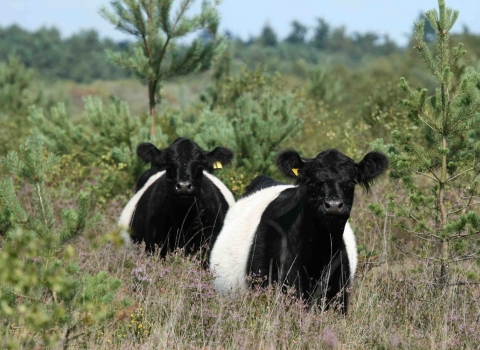 Conservation grazing
We use grazing animals to help manage wild landscapes across Surrey, including our own nature reserves and the land of partner organisations.
Find out more
Protected wildlife sites
The sites under our care require careful monitoring and a range of techniques to ensure that they are managed and improved for wildlife. Many have special designations and legal protection.
More about site designations
Conservation projects
We are carrying out a series of conservation projects across the county to protect and restore key species and habitats.
Become a member to continue our work
Nature is in trouble. Please become a member and support our work protecting the wildlife you love in Surrey.