Conservation is our mission
Wildlife is disappearing at an alarming rate - some are calling it the next mass extinction - and the threat of climate catastrophe is a constant worry.
The Wildlife Trusts are calling for at least 30% of our land and sea to be connected and protected for nature's recovery by 2030. Making more space for nature to become abundant once again
As a local conservation charity we care for over 60 nature reserves across Surrey with the support of volunteers and members. We also carry out a host of wildlife conservation projects across the county and help enhance and connect key habitats for rare species.
More recently we have been expanding our reach, working with others to develop a living landscape across Surrey through the creation of a Nature Recovery Network.
Expanding our reach
Despite the excellent work in maintaining and improving the nature reserves we manage for wildlife, biodiversity is in decline and a third of Surrey's wildlife is now either extinct or heading that way. 
The reserves we care for with our dedicated wildlife conservation volunteers remain at the heart of our work - after all, they are the oases for nature from which species will be able to recolonise other parts of the county. But this isn't enough to turn the tide. 
For nature to thrive we need to create a 'living landscape' across Surrey. Working in partnership, we are focusing on key areas of the county to maximise our impact on the ground. These are called 'Biodiversity Opportunity Areas' or BOAs.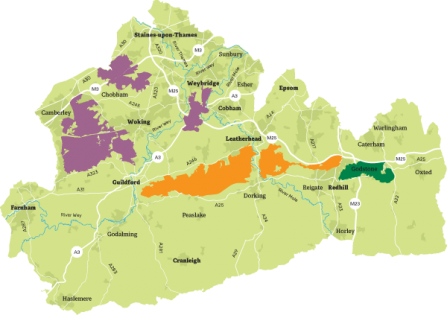 Conservation projects
We are carrying out a series of conservation projects across the county to protect and restore key species and habitats.
Become a member to continue our work
Nature is in trouble. Please become a member and support our work protecting the wildlife you love in Surrey.