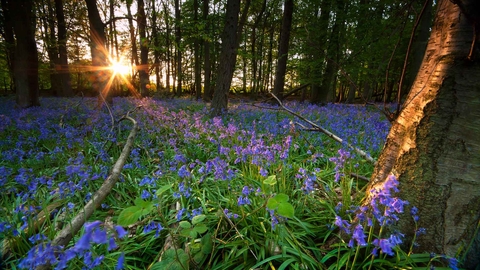 Bluebells are the crowning glory of this ancient woodland, which also features a beautiful pond. Public access managed by Surrey County Council.
Know before you go
Parking information
Car parks off Grants Lane and Staffhurst Wood Road
Access
Public access managed by Surrey County Council, conservation managed by Surrey Wildlife Trust
Not suitable for wheelchair users or those with limited mobility.
When to visit
Opening times
Open at all times
Best time to visit
April to November
About the reserve
At any time of year, a walk through Staffhurst Wood brings you face-to-face with history. The fine mix of oak, ash and beech, with areas of hornbeam and hazel coppice, are an echo of the old 'Wildwood' that once covered much of the south of the UK. They say that in the middle ages a squirrel could cross England without touching the ground. Look carefully and you will also see examples of the relatively rare wild service tree.
Among the trees are remains of a medieval bank and ditch, and you can still see the fields, called 'assarts', that local people cut into the woodland around 700 years ago to grow crops.
Come in spring, however, and you will also be rewarded with one of Surrey's most spectacular displays of bluebells.
Having been continually wooded since Saxon times, Staffhurst was clear-felled for timber in the 1930s and much of its flora and fauna disappeared. It was further damaged during World War II, when it was used as a vast ammunition dump. Troops were stationed in the woods and two large bombs fell here. You can still see water holders and remains of other military buildings among the trees.
Happily, some older trees remain, with the oldest oaks planted around 1800 and yews dating back to the mid-19th century. For the last 70 years the wood has been managed to try and restore some of its character. Staffhurst is now home to 200 plant species and 288 species of moth, including the lead-coloured drab (Orthosia populeti). Lesser celandines, common spotted orchids and wood anemones have reappeared over the last few years. A beautiful woodland pond is home to newts and other amphibians.
Environmental designation
Ancient Woodland
Local Nature Reserve (LNR)
Site of Special Scientific Interest (SSSI)