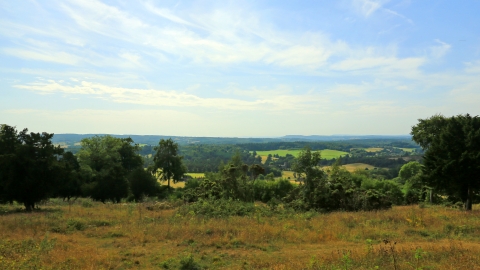 Shere Woodlands (inc. West Hanger, Combe Bottom & Netley Plantation)
The many treasures of Shere include fascinating wildlife and spectacular views. Public access managed by Surrey County Council, conservation managed by Surrey Wildlife Trust
Know before you go
Parking information
Car park off Staple Lane, East Clandon
Walking trails
The North Downs Way runs trough West Hanger
Access
Public access managed by Surrey County Council, conservation managed by Surrey Wildlife Trust
Not suitable for wheelchair users or those with limited mobility
When to visit
Opening times
Open at all times
Best time to visit
April to October
About the reserve
Shere Woodlands, including West Hanger, Combe Bottom and Netley Plantation, are on the scarp slope of the North Downs, so you would expect outstanding views across the Weald and Greensand Ridge. You might not be as well prepared for the amazing variety of animal and plant species that thrive in its woodland, chalk grassland and scrub.
In fact, Shere has something special for every season. In autumn the beech woods offer fantastic colour and the sheer range of trees is amazing, from cedar to cypress, from dogwood to yew. In winter the slopes are 2-3 degrees cooler than down in the valley, so the woodland gets more than its fair share of frost and snow. Despite being only a few miles from Guildford, it can feel like a wilderness. In spring the place fills with birdsong. And in summer you can barely move for the buzzing of dragonflies and the heady fragrance of marjoram.
Other notable plants include hemp agrimony, ragwort, St John's wort, dog's mercury, wild privet, bird's nest orchid, verveine, agrimony, wild basil, dog rose, salad burnett and autumn gentian.
On a summer's day you're also likely to see a wide range of different butterflies, because of the variety of habitats. The Trust typically counts around 27 species a year, including meadow browns, silver-washed fritillaries, peacocks, red admirals, dark green fritillaries, brimstones, green hairstreaks, grizzled skippers and dingy skippers.
History plays a part in the rich diversity of species. The 1987 storm went straight up the valley and flattened lots of 250 year-old beech trees. Some big old trunks on inaccessible slopes have been going through a decaying process for over 30 years, which is great news for fungi and invertebrates – and the insects that feed on them.
Environmental designation
Ancient Woodland
Area of Outstanding Beauty (AONB)
Local Nature Reserve (LNR)
Site of Special Scientific Interest (SSSI)