Of the 29 species of dormouse in the world, only the hazel dormouse (Muscardinus avellanarius) is native to the UK.
It is one of our most endearing creatures, with its golden-brown fur, large black eyes and a furry tail that is unique among small British mammals.
Sadly, today the hazel dormouse is a rare and endangered species. Numbers have fallen by 75% in the last 25 years and it is now protected by law. However, here in Surrey we are lucky to have a small, thriving population – and a team of committed volunteers that is working hard to encourage them.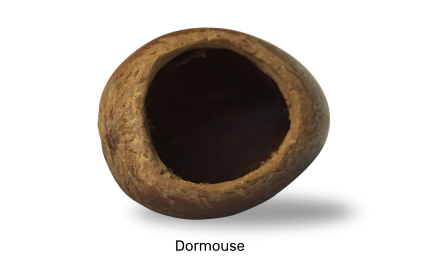 Become a nut detective
As ever, the first step in conserving wildlife is to understand where and how it lives. We can all play our part, just by keeping our eyes open. When you're walking in woodland this autumn, look out for hazelnut shells. If they've been eaten by dormice, there will be a round hole with tooth marks that run parallel to its edge, so that the rim looks smooth. Other species of mice and voles leave tooth marks that run outwards, so the rim of the hole looks like the milled edge of a coin.
Send us your nibbled nuts!
If you find shells that look promising, send us a photo using the form below, along with details of where you found them. This will help create a dormouse map of Surrey and identify the most promising sites.
The Legal bit
Your Privacy
We will keep the data you have provided on our secure database and only use it in relation to your enquiry.
If you have opted to receive our e-newsletter and other content:
We will keep your data on our secure database and will use it to send your monthly update by email.
We may also use it to collect information about you that helps us to get to know you better, such as any surveys you complete, donations made or other ways you may have supported Surrey Wildlife Trust.
You can opt out of any communications at any time.
We will never share your data with other organisations
For further information on how we use your data, please refer to our privacy policy.