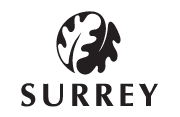 Help us plant 1.2 million trees in Surrey
All money raised will be used to plant new trees across Surrey. This project is a partnership between Surrey County Council and Surrey Wildlife Trust.
Surrey County Council is working with Surrey Wildlife Trust to plant 1.2 million new trees in Surrey by 2030, including hedgerow trees and the creation of copses and shaws. All planting will be carried out in accordance with our policy on the right tree in the right place'.
Donate to the tree fund
help SCC and Surrey Wildlife Trust plant 1.2 million trees in Surrey