We welcome support from organisations that share our passion for Surrey's wildlife and want to inspire local people to care for the natural world.
Many local businesses support the work of the Trust and receive a range of benefits, from PR opportunities to staff and community involvement. You can support specific projects in areas of interest to your company or our day to day work across the county.
Business partner benefits

Benefit

Small business partner

Bronze partner

Silver partner

Gold partner

Use of SWT partnership logo
✓
✓
✓
✓
Acknowledgement of your company's support in our publications and website
✓
✓
✓
✓
Invitation to Trust corporate events providing opportunities to network
✓
✓
✓
✓
Discounted rates on our Adult Educational courses for all employees
✓
✓
✓
✓
Invitation to Trust corporate events providing opportunities to network
✖
✓
✓
✓
Discounted advertising rates in our Surrey Wildlife magazine, circulated to c.26,000 members
✖
✓
✓
✓
Presentation of a framed certificate with photo opportunity
✖
✓
✓
✓
Complimentary copy of Wildlife What's On three times a year
✖
✓
✓
✓
Complimentary copy of Surrey Nature three times a year
✖
✓
✓
✓
Opportunities for staff to take part in Environmental Challenge Days at discounted rates
✖
✓
✓
✓

Ecological services

• Preferential rates for ecological surveys and advice from our in-house Ecology Services team (subject to availability).

• Assistance with realising CSR and biodiversity obligations

•Tailor-made support from our 'Menu of Services'

• Biodiversity Benchmark advice, support and pre-application gap analysis

• Habitat and species surveys

• Habitat management plans and habitat creation advice

✖
✖
✖
✓
Opportunity to join the Trust at half price for all employees
✖
✖
✖
✓
Discounted rate on heather sales (when available)
✖
✖
✖
✓
Discount ticket price for corporate Christmas event
✖
✖
✖
✓

 
Business partner stories

Toyota UK PLC

Achieving harmony with nature is one of our six global principles. To that end, we have signed up to The Wildlife Trusts' Biodiversity Benchmark standard, which will assess and certify our systems for achieving continual biodiversity protection. Alongside this, we are working with SWT on our ECO-HQ project. We aim to make our grounds a centre for biodiversity, restoring them to their original condition.

John Ryan, UK specialist in environmental affairs

Prater Ltd.

As a Surrey-based business, we believe it's important to give something back to the environment and community we work in".We deeply respect the Surrey Wildlife Trust's work and support them fully both as a Gold corporate partner and by participating in their Environmental Challenge Days. These also give our employees a great chance to get to know their colleagues outside of the office while helping to preserve the countryside around us.

Martin Harper, Environmental Manager, Prater

UK Power Networks

Team challenges develop new skills, enhance team working, bring colleagues together and our employees really enjoy them. At UK Power Networks we recognise the benefits they bring to our company as well as taking satisfaction from producing tangible benefits for wildlife and the local community.

Phil Spiby, Sustainability Advisor, UK Power Networks
Meet our business supporters

Honorary

Gold Partners

Silver Partners

 

Bronze Partners

 

Small Business Partners

 

Business Supporters & Sponsors
The partnership between Surrey Wildlife Trust and Chessington World of Adventures Resort is a very fruitful and mutually beneficial relationship. As an organisation that has a vested interest in the natural world, our partnership with Surrey Wildlife Trust helps us to promote conservation and education of our native wildlife.

Chessington World of Adventures Resort
Business partner case studies
Businesses that go above and beyond for nature.
Belron International

Belron International won our top prize in the business category of the Surrey Wildlife Garden Award in 2019 for the way they manage their grounds for nature.

Representing the best of corporate wildlife gardens in the county, Belron International's grounds have formal areas part lawn and part woodlands but they have introduced a multitude of wildlife features and a trail with information boards about the wildlife for visitors. A long grass areas, wood piles, fruit trees, bird feeders, hibernaculums, an insect hotel, wildflower bank, a pond and bird bath are just some of the wildlife features.  A wormery and compost have also been introduced.

Supporting species such as  woodpeckers, nuthatches and jays, as well as many insects, Belron have also introduced a poly tunnel for growing tomatoes and chillies. They also encourage staff to enjoy the ponds and gardens at weekends with their families.

Alex Lacurto from Belron International said: "We're delighted to have won this award. We believe that making the most of our outdoor space is important for not only the wildlife and conservation of the natural habitats but also the well-being of our people. We try to make the most of it with everything from outdoor meetings to fitness activities. Everyone really enjoys the grounds and we feel very lucky to be surrounded by all of this wonderful nature."

© Belron International

We're delighted to have won this award. We believe that making the most of our outdoor space is important for not only the wildlife and conservation of the natural habitats but also the well-being of our people
Toyota UK PLC

Toyota is known for its commitment to reducing the impact of cars on the environment. It pioneered the first mass-produced hybrid vehicle in 1997 and today its range includes eight eco-friendly vehicles. The company has set itself ambitious targets within the Toyota Environmental Challenge 2050, one of which is "establishing a future society in harmony with nature". 

Creating the new, improving the old 

As part of this,Toyota partnered with the Royal Botanic Gardens, Kew to carry out ambitious landscaping works on the land around its headquarters building to create a range of habitats that complement the local environment. 

Meanwhile, SWT Ecology Services has helped Toyota adjust the management of existing habitats to optimise biodiversity. Areas of grassland have been left to grow longer. Parts of the woodland are coppiced, allowing more light to reach the woodland floor. Log piles, invertebrate hotels, stag beetle loggeries, and bird and bat boxes add to the habitats available.

In recognition of this in December 2019 The Wildlife Trusts awarded Toyota the Biodiversity Benchmark.

Impressive variety

Regular surveys by SWT Ecology Services show that all this work is enabling biodiversity to thrive. At the bottom of the food chain, the site supports an impressive variety of native plants and a healthy invertebrate assemblage. Amphibians, bats, small mammals such as mice and voles, larger mammals such as foxes, and a wide range of bird species are all using the site. There are good amounts of kidney vetch, which is the sole foodplant for the rare small blue butterfly.

Benefits beyond nature

Interestingly it isn't just the wildlife that is thriving. Toyota staff are also seeing benefits from the ECO HQ. Staff enjoy walking around the grounds and building bug hotels, amphibian hibernaculums and bird feeders. Staff member Katy Sheehan says, "I am really enjoying being part of this great project and feeling like I am giving back to nature. My health and wellbeing have certainly seen great improvements."

We're delighted that we've achieved this award. The fact that so many species enjoy using the grounds alongside our staff is proof that we've created a truly wildlife-friendly environment

President and managing director, Toyota GB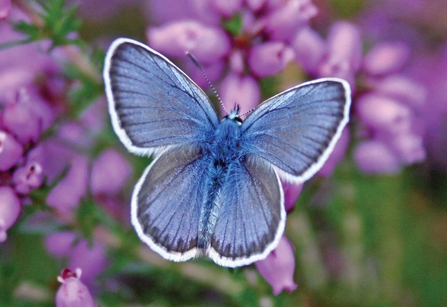 Become a business supporter