Dare to be wild! New review says get long-lasting feel-good factor from 30 Days Wild
The Wildlife Trusts and University of Derby evaluate the benefits of daily nature contact with 1,000 people over five years
During mental health awareness week, The Wildlife Trusts have launched a new review with the University of Derby which has discovered the enduring positive effects on wellbeing from participation in 30 Days Wild are still felt two months after the challenge is over.  The UK's biggest nature challenge, 30 Days Wild, run locally by Surrey Wildlife Trust, inspires daily acts of nature engagement every day during June.
An invaluable challenge for improving mental health especially after months of social distancing, 30 Days Wildparticipants are provided with ideas, wallcharts and activity sheets that give them easy ways of enjoying nature whatever their location. These 'random acts of wildness' range from walking barefoot on grass, to sitting beneath a tree, making a log pile in the garden for minibeasts or making a nature video.
30 Days Wild – a five-year review is a summary of 1,105 people's responses. The results show that taking part in 30 Days Wild not only significantly increases people's wellbeing and heightened sense of nature – but that these positive increases are sustained beyond the life of the challenge – for a minimum of two months after it is over. The people who benefit most are those who have a relatively weak connection with nature at the start.
Professor Miles Richardson, Professor of Human Factors and Nature Connectedness at the University of Derby, says:
"This five-year evaluation of 30 Days Wild has produced remarkable results – it shows the positive power of simple engagement with nature. We were thrilled to see that the significant increases in people's health and happiness were still felt even two months after the 30 Days Wild challenge was over. What really stood out was how the people who didn't feel a connection with nature at the outset were the ones who benefitted most from taking part in 30 Days Wild."
Over a million people have taken part in 30 Days Wild during the last five years. 
Last year, 2019, was the most successful so far, attracting 400,000 participants. This June, The Wildlife Trusts believe the challenge will prove more popular than ever as the UK battles with social restrictions and people are looking for ways to keep spirits up and entertain young families. Whilst time spent outside may be limited, daily nature activities – even at home – can open a door to a world of sensory delights, from listening to birdsong or growing a pot of wildflowers on a windowsill.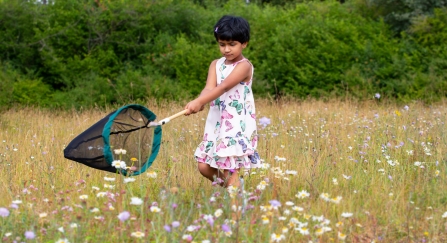 People of all ages can sign-up and download fun ideas, wallcharts, activity sheets and inspiration for going wild in nature during June.  This year the campaign is 100% digital and everyone can download materials for FREE.
The 2020 challenge has brand new downloads to enjoy, including:
Wildlife gardening tips from Monty Don
Beginner's guide to wildlife photography from award-winning George Stoyle
Wild fitness ideas from Zanna Van Dijk
Our Big Wild Weekend events will focus on nature at home – on Saturday 20th June everyone's invited to camp in their back garden or create a wild and beautiful nature den indoors!
Dr Amir Khan, The Wildlife Trusts' health ambassador and TV doctor, says:
"Being outdoors and enjoying nature is fantastic. Not only to see what's going on around us, but also for our physical and mental health. A lot of research has shown that spending – even a short amount of time – embracing nature, can have a positive effect on our health. Why not join us and do something wild everyday this June?"
Sophie Pavelle, naturalist and social media influencer, who is starring in the Surrey Wildlife Trusts promotional video on Instagram and Facebook, says:
"30 Days Wild is a fantastic initiative. Not only does it champion the individual into taking action to connect with and care for nature, but it brings people together in a joyful, wild movement - just when we need it most. Now more than ever, we need those daily doses, those regular 'hits' of the natural world, for our happiness and mental wellbeing. People protect what they love, and if we make 'the wild' part of our everyday and allow ourselves to fall in love with it, then there is real, tangible hope for the future of our environment."