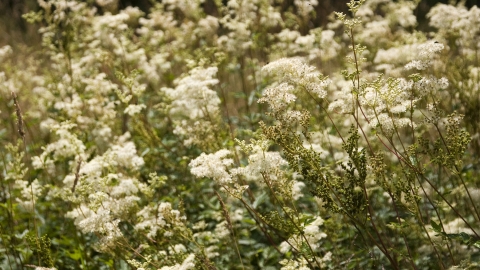 The last surviving example of unimproved grassland on Thames Gravel in Surrey.
Know before you go
Parking information
No car park - access on foot via Devil's Lane
Access
Not suitable for wheelchair users or those with limited mobility.
When to visit
Opening times
Open at all times
Best time to visit
May to August
About the reserve
Purchased in 1988 and dedicated to the memory of Mrs Sheila Wenham, Thorpe Hay Meadow is a small meadow on the alluvial gravels of the Thames flood plain and thought to be the last surviving example of unimproved grassland on Thames Gravel in Surrey.
This small reserve contains some very rare plant species including downy-fruited sedge (Carex filiformis) a nationally rare plant. Some 157 plant species have been recorded and include meadow cranesbill, clustered bell-flower, cowslip, hoary plantain, salad burnet and lady's bedstraw.
The grassland is dominated by rough-stalked meadow grass, crested dog's tail and lesser knapweed. Yellow rattle, ox-eye daisy, smooth hawks-beard, meadow barley, meadow fescue grass and common reed. Other frequent species include meadow brome, meadow foxtail grass pepper saxifrage and meadow sweet.
Such a rich flora supports a wide variety of butterflies and insects and more than 20 butterfly species have been recorded, including the meadow brown, gatekeeper, common blue orange tip and ringlet.
Bees are kept busy among the blooms and dragonflies and damselflies can be seen flitting through the damper vegetation by the ditch, which runs along two sides and supports five species of willow, including purple, crack and almond.
The ancient hedgerow surrounding the meadow comprises ash, hawthorn, field maple, spindle, dogwood, buckthorn and elder and offers perfect nesting sites for chiffchaff and blackcap.
Environmental designation
Site of Special Scientific Interest (SSSI)