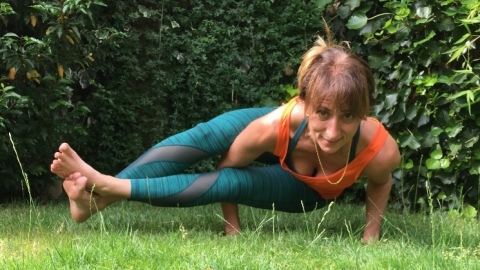 Yoga Retreat (One Day)
Location:
Nower Wood Educational Nature Reserve,
Mill Way,
Leatherhead,
England,
KT22 8QA
Enjoy a full day of yoga inspired by the surrounding ancient woodland.
About the event
You are invited to spend an inspiring day at the private nature reserve of Nower Wood, near Headley. We will have exclusive access to 81 acres of ancient woodland in which to walk, mediate and practice rejuvenating yoga techniques with experienced tutor Isabel Ferreira.
The theme of this retreat is:
 Celebrating our Connectedness!
'When people go within and connect with themselves, they realise they are connected to the universe and they are connected to all living things.' - Armand Dimele
Human connectedness is a powerful human need.  This occurs when an individual is actively engaged with another person, activity, object or environment, resulting in a sense of well-being.  Underlying the practice of yoga is the premise that there is a connection between breathing beings, the world and the universe itself.  Yoga is designed to help us experience this connection.
At Nower Wood you are at the heart of nature where it is easy to step outside your busy life and routine.  In allowing yourself peaceful time, you make space within, space for connection with nature,
This retreat caters to all abilities. The day will be spent focusing on building strength with a sequence designed to help you feel connected to body-mind. Using the Anusara Yoga® techniques you will find both the calm and the strength mirrored in the growth of the trees around us. But, there will also be plenty of time for pranayama (breathing techniques) and a walking meditation in the woods, weather permitting.
We will provide cold and hot drinks as well as a gluten-free vegan lunch. However, you are welcome to bring along your own meal if you prefer.
On the day, you will need your yoga mat, a thick blanket and sturdy walking boots.
The beautiful surroundings of Nower Wood will provide grounding energy to fully complement this one-day retreat.
About our tutor Isabel Ferreira
      Certified Anusara Yoga Teacher
      Anusara UK and Ireland Country Coordinator
Isabel is a certified Hatha Yoga Teacher and an Anusara-Inspired® Yoga Teacher. She is very grateful to have embarked on the journey of yoga, immersing herself into the teachings and being able to share them with others along the way. She was 42 years old the first time she walked into a Hatha Yoga class, learning of the spiritual and physical benefits of yoga and staying present.
Most of all, for Isabel yoga is a way of living, and she identifies fully with the Anusara™ philosophy: 
- Celebrating life 
- Everyday: looking for the good in everyone and everything 
- Staying connected within ourselves. It is through this connection that we can express sincere love and kindness to all human beings.
She aims to share the joy of expansion of the whole being through this empowering practice where mind, body and spirit move towards a better integration, setting the path to find a way to live life with more strength, ease, and grace.
For more information: www.isabelyoga.co.uk
About Anusara Yoga®
The Sanskrit word Aausara translates as "to be in the flow of Nature," "flowing with Grace," and "to follow your heart." Anusara Yoga® is an invitation for you to fully step into the flow and experience all of the richness and highest potential for your own life, to celebrate our lives as a gift of Grace.
Anusara Yoga® incorporates the application of precise bio-mechanical Universal Principles of Alignment ™ with life-affirming Shiva-Shakti Tantric-based yogic philosophy of intrinsic Goodness. It seeks to optimally align the body, mind and spirit and invites us to step into our potential and the flow of Life itself. Anusara Yoga® is an all-inclusive yoga that welcomes diversity and encourages everyone to see the world as Shri- full of beauty, abundance and value.
Booking
Price
members & Isabel's students £65, non-members £77
Suitable for
Adults
Know before you go
What to bring
please bring a mat and walking shoes
Parking information
free parking available