Creating a wild garden at Bay Pond
Surrey Wildlife Trust is creating a community wildlife garden at Bay Pond. 
By growing plants from seed and cuttings, and upcycling things that would otherwise be thrown away, we want to show that making a space for nature doesn't have to cost the earth. 
The garden will be full of ideas to inspire people to take action for wildlife in their own backyard, so that together we can connect habitats across the county and create a Wilder Surrey.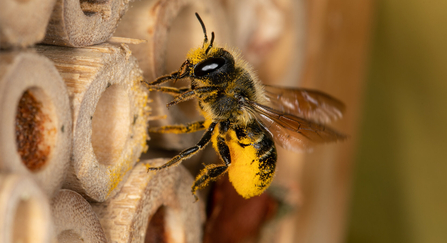 About the project
Surrey Wildlife Trust will be involving the local community in creating a wild oasis for plants, people, and pollinators, not to mention all the other wildlife that can call our gardens home.
An enormous 12% of the county of Surrey is covered in gardens.  Our aim is to connect land across the county for nature, and we can't do this without Surrey's gardeners. Whether you have a patio or a paddock there are ways you can make your space into somewhere that wildlife can thrive, and our wildlife garden will show you how.
Community involvement

Surrey Wildlife Trust will be running regular volunteer groups and hosting Community Garden Days every month from May to get the garden started.  These days will offer a chance for local people to come along and learn some new skills while helping us to propagate plants and create some of the key features – a pond, a hugelkultur bed, and of course, the most important ingredient of all for a wildlife garden, the compost heap.

We have already received some wonderful donations of unwanted but very useful materials, such as bricks, hanging baskets, and old windows. We will continue to seek items in good condition that we can repurpose into functional or quirky features, so if you have something that might find it's ideal home with us, do get in touch.  Garden tools in good condition are particularly welcome but think creatively; trellises, straw bales, and leftover outdoor paint are all on our list!
Our vision

The Wildlife Garden at the Bay Pond Nature Hub will inspire, educate and engage, through workshops, training events, open days and projects with local schools.  We want our visitors to go home with the ideas and the confidence to take action for wildlife in their own space, connecting land for nature throughout the county.  No garden is an island – each one of us is responsible for a single patch in the quilt that makes up the Surrey landscape, and together we can create a place to live that is alive with buzzing and birdsong, a true wild oasis.
Project blog