Get hedge-u-cated!
Hedgerow Heritage is an ambitious National Lottery Heritage funded project that aims to inspire and teach young budding ecologists, practical conservationists and the wider local community to restore, renew and create hedgerows in the North Downs and Surrey Hills.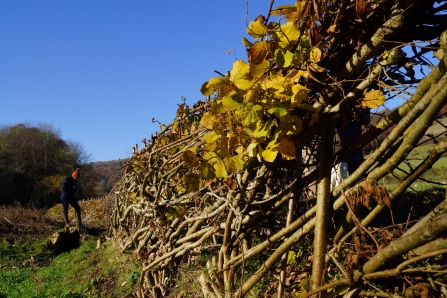 Why are hedgerows important for wildlife
Hedgerows are far more than just a green barrier
For hundreds of years, generations of hedge layers have maintained the iconic patchwork quilt landscape of hedgerows to mark ownership boundaries, contain livestock and shelter crops from extreme weather. In the past these healthy and well connected networks of hedgerows have been essential habitat providing a source of food, shelter and safe passage for priority species of plants and animals across the landscape.
Today a third of all wildlife in the county is already extinct or heading towards extinction.
Since 1945 the intensification of farming and the trend towards larger fields has meant that half of hedgerows have disappeared from the landscape. In addition 93% of the county's remaining hedgerows are now in poor condition.
More than 130 key species that depend on hedgerows are now at risk of extinction. These species include dormice, hedgehogs, bats, butterflies such as the brown hair streak and rare pearl bordered fritillary, bees, bugs and birds such as the white throat and yellow hammer.
Get involved
Register your interest in getting involved with the project below and we'll be in touch as soon as possible.
Your Privacy
We will keep your data on our secure database and will use it to send you information about our Hedgerow Heritage project .If you have opted in, we will also send your monthly update by email.
We may also use it to collect information about you that helps us to get to know you better, such as any surveys you complete, donations made or other ways you may have supported Surrey Wildlife Trust.
You can opt out of any communications at any time.
We will never share your data with other organisations
For further information on how we use your data, please refer to our privacy policy.