Why are we facing a climate emergency?
We continue to lose our most precious remnants of wild natural space and vast numbers of our insects and birds. Our existing laws are too weak and the climate and ecological crisis we face is not being taken seriously enough. We need ambitious natural climate solutions that reduce and capture carbon, stop ecosystem destruction and make our towns and cities cleaner and greener.
The decision to declare a 'climate emergency' at both national and local government level is encouraging, but we must now take decisive actions that support these words.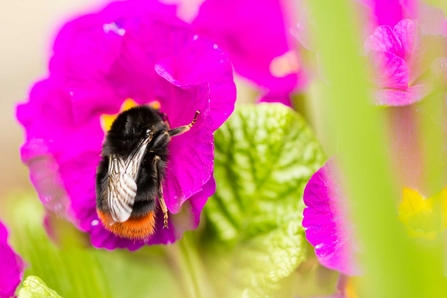 Species such as bees are  affected by climate change. Erratic weather and unreliable seasons mean that they find it harder to nest and feed.
What are we calling for?

 We must come together to restore our habitats on a landscape scale, and bring our seas back to life if wildlife is to thrive again. The damage must stop and the tables must be turned. 

It's time to accelerate action on the climate crisis including through restoring our natural world, not least our peatlands.

It is not acceptable to be building massive motorways for carbon-hungry cars, destructive High Speed lines or bigger airports across ancient woods and other vital wildlife habitats. 
It's time for new laws that will truly give nature and people a safe and healthy future.
What are The Wildlife Trusts doing?

We are facing two inextricably linked crises, the climate emergency and the steady decline of nature. We cannot solve one crisis without tackling the other – nature's recovery is vital for tackling climate change.

Thriving habitats can safely lock up vast amounts of carbon, while providing other vital benefits that help us adapt, such as flood prevention, clean water and improved health and wellbeing.

But nature in the UK is in a damaged, fragmented state. It is much less able to limit or adapt to climate change, and declining habitats such as peatland and saltmarsh are releasing their stored carbon.

Natural solutions to climate change

Here in Surrey and across the UK, Wildlife Trusts are working to protect and recover important habitats that lock carbon safely away and limit the effects of climate change. But we all need to work together for a healthy natural world. 

Our #WilderFuture campaign calls for a Nature Recovery Network in law. This would stop the damage and expand and re-connect isolated habitats. Rather than just protecting small areas of land, this would enable wildlife to recover and thrive. We need world-leading legislation for nature's recovery.
How you can help

You can call on your MP to support a Nature Recovery Network! Join our campaign for a #WilderFuture and write to your MP using our simple instructions and letter template below.

You can also take steps at home to reduce your impact on the climate and environment. Be a part of the movement for change!
We've also long called for changes in laws and practice that properly protect and restore nature, including a Nature Recovery Network to map, join-up and restore habitats.
Our position on climate strikes
The Wildlife Trusts fully support people across the UK who feel compelled to demonstrate their concern. We face heartbreak daily as we see the wildlife we love lost time and time again.  As a movement, The Wildlife Trusts stand united with all those who share our belief that nature is valuable in its own right as well as being essential to our existence.
More ways to help