Criss-crossing the countryside, hedgerows can be seen dividing up our landscapes, but the condition of these important habitats is declining through over-management and neglect.
To address this, the Trust is training volunteers to survey, restore and protect Surrey's precious hedgerow networks.
Why are hedgerows important?
With nectar-rich blossom in the spring, insects buzzing in the dense thickets in summer and red berries in autumn; hedgerows have provided wildlife with a rich larder and a place to shelter for centuries. 
However, since WWII, around half of the UK's hedgerows have disappeared. Whilst hedgerow loss has now stabilised, their condition is showing a worrying decline.
Hedgerows matter

Over 130 Species of Principle Importance for Nature Conservation are associated with hedgerow habitats. These include the rare pearl-bordered fritillary, protected species such as the dormouse, as well as birds such as whitethroat and yellow hammer.
Hedgerows and our environment

Hedgerows play an integral part in preventing soil loss from wind and water erosion, reducing flooding and local air pollution, providing shelter, and acting as a buffer strip to protect our watercourses from agricultural pollution.
Species that rely on hedges
Frequent cutting and poor management of hedgerows is causing a decline in hedge condition. Hedgerow loss and degradation has been identified as a contributory factor in the decline of many species, especially those associated with farmland. 130 species of conservation concern are known to rely on them! 
Butterflies

Species such as the rare black and brown hairstreaks, purple emperor and pearl-bordered fritillary, use hedgerow flowers for nectar or to lay their eggs in the shelter of the plants.
Mammals

Animals like the European-protected hazel dormouse, bank vole, harvest mouse and hedgehog nest and feed in hedgerows. Bats, such as the greater horseshoe and Natterer's bats, use them as green 'commuter routes' for foraging and roosting.
Birds

Woodland and farmland birds such as blue tit, great tit, yellowhammer and whitethroat can be found along hedges.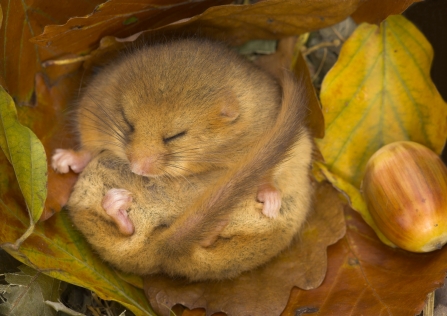 How to take part
Hedgerow Heritage Project
Take part in our upcoming National Lottery Heritage funded hedgerows project involving surveying, hedgelaying and tree planting events within the North Downs.
Map of Surrey's Hedgerows
This map shows the hedgerows that have been surveyed by our Hedgerow Heroes. By clicking on each point on the map you are able to compare and contrast your survey with other surveys across the county.
If the map does not display properly, please refresh your page