Conservation for everyone
By taking part in our citizen science surveys you are helping us to understand the condition of our priority habitats, their connectivity and the wildlife that lives in them. 
As a citizen scientist you are our eyes and ears on the ground.
What is citizen science?

Citizen science is a flexible concept which can be adapted and applied within diverse situations and disciplines. At Surrey Wildlife Trust we have always relied on volunteers to help deliver our missions, including practical land management, fundraising, and with data gathering and analysis. With our partner, the Surrey Biodiversity Information Centre, we have helped foster and coordinate Surrey's extensive community of skilled species recorders and recording groups. The survey and monitoring data provided by these groups make the planning of conservation at the local and regional scale possible.
Projects

Hedgerow Heroes

Help us carry out hedgerow surveys that are vital to highlight hedgerows that need our help.

RiverSearch 

A healthy river system is one with a rich diversity of species and habitats all co-existing in clean water. Help us monitor your local stretch of water. 
How we use your data

Citizen science has been identified as a major part of Surrey Wildlife Trust's new 5 Year Strategic Plan 2018 - 23. Over the next 5 years, and in line with our Research and Monitoring plan, our data needs are going to be expanding. It is vital that we make informed decisions based on knowledge and evidence, and take a rigorous approach to monitoring and evaluating our conservation efforts.

We will be using the data you collect:

To understand the pressures on biodiversity, critical trends and how people appreciate and benefit from the natural environment.
To discover better ways to manage the environment to improve biodiversity and foster public understanding and wellbeing
To better understand and demonstrate how we can all make a positive impact through monitoring and evaluation
Species recording

Recording the natural world around you helps contribute to our knowledge of the natural environment. We want to encourage people to get out and about to record what you see around you. You do not need to be an expert in identification, even the submission of common species' records is an important contribution. For many species, including common species, we simply don't know what is happening to their populations, so recording their whereabouts is just as important as the more rare species.

The vital components of a biological record are WHO, WHAT, WHEN and WHERE:

WHO: Who found and identified the species?

WHAT: What is the name of the species? Give a common and scientific name if you can. iSpot is a brilliant website aimed at helping anyone identify anything in nature so is a great place to start.

WHEN: The date it was seen.

WHERE: The location of the record, ideally as a six figure grid reference. Grid references can be found on a variety of websites but in the field you can mark the location on a map or use a GPS or mobile phone app. If you find the same species in a different location, that is a separate record so you can have multiple records for each species on your list. This is more useful than only recording each species once.
How to get involved
If you are not already registered as a Trust volunteer, please register first.
OR If you are already registered, please email citizenscience@surreywt.org.uk to request a Cartographer account.
Once you are registered, you will be able to submit your survey data to the Cartographer website where you will also be able to see your survey data on an interactive map!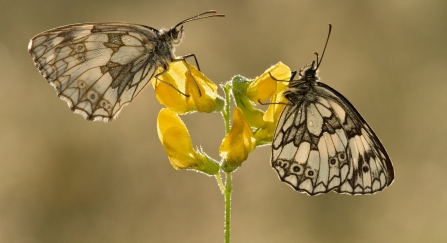 Citizen Science project policies & procedures
Please refer to our citizen science policies and procedures before surveying.
PLESE NOTE: You will be required to agree to adhere to Surrey Wildlife Trust's terms and conditions and health and safety procedures. The agreement form can be accessed by clicking the button below.
Survey Packs
If you do not have a printer or cannot access them, please email us and we will post you a pack and some survey forms
Download RiverSearch survey packs
Download Hedgerow Hike survey packs