Wildlife is under threat. Habitats are fragmented, there isn't enough space for wildlife to move around, and many of our plants and animals are declining. 
The State of Surrey's Nature report found that nearly a quarter of species are believed to be in significant decline while an estimated one in nine are locally extinct.
The Government is working right now on creating new laws – an Environment Act - to protect our country's wildlife. We are telling MPs in Surrey that the laws must be strong enough to make sure wildlife thrives.
Measures
With your help, we can convince our politicians that the Environment Act must include three ambitious measures to properly protect nature and create a #WilderFuture:
Nature Targets

We want the law to set Nature Targets, which are measurable benchmarks that politicians have to meet, like targets on clean air and water quality, or the creation of green space. Politicians will have to show that they are working to meet these targets.
Nature Recovery Network

The new laws must ensure the creation of a Nature Recovery Network. This will join up habitats and important places for wild plants and animals, allowing wildlife to move around.

To do this, a 'Nature Map' of the UK's wildlife would be created, so we can work to connect habitats and ensure new property and infrastructure developments take account of the paths and corridors needed by wildlife.

It would include not only isolated nature reserves, but also parks, gardens, road verges, meadows, fields, waterways and other natural areas and links.

It would also mean creating green avenues and spaces, as well as green roofs, hedgerows, and natural unploughed 'buffer' zones on farm fields, to give wildlife space to thrive.
Nature Watchdog

To make sure this happens, there must also be a strong, independent Nature Watchdog to hold politicians to account and to check that they are doing the right things to protect wildlife, such as hitting their Nature Targets. A watchdog would allow people to appeal bad planning decisions that might harm nature and would ensure local government only approves developments which provide new habitat and greenspace and create a 'Net Gain'* for wildlife. In short, new developments would add more to wildlife than they would take away.

*Find out more below
It's time to act!
If we all tell our politicians to act for wildlife, they will have to listen!
Irresponsible development
Without strong laws and an independent Nature Watchdog to control developers and the planning decisions of local governments, there could be an increase in irresponsible development, putting important sites at greater risk and further limiting wildlife's connectivity.
Thames Basin Heaths: vital habitat under pressure

Heathlands provide valuable habitat for rare and important species such as nightjars, dartford warblers, woodlark, lousewort and silver-studded blue butterflies. We manage some very special heathland sites across Surrey, including the Ash Ranges, Wisley and Ockham Commons, and Chobham Common, which are part of the Thames Basin Heaths, a collection of protected heathlands that also covers heaths in Berkshire and Hampshire.

These sites currently enjoy a high level of legal protection. As such, no new housing developments can be constructed within 400 metres of the sites, and any developers building housing within five kilometres must take measures to mitigate their impact on the environment, including identifying and providing Suitable Alternative Natural Greenspace (SANG), and providing funding for wardens managing the heathlands.

Surrey is under acute pressure from developers. Without proper constraints in the form of strong, watertight laws, there could be more irresponsible property developments encroaching upon these immensely valuable sites. If developers are not bound to provide alternative greenspace under the requirements of a Nature Recovery Network, then they would find it much easier to eat up greenspace around the heathlands and other protected sites without contributing to the connectivity of wildlife, and without providing space for nature and for people to enjoy.

Even if these requirements are written in law, they mean little without a Nature Watchdog with the power and resources to enforce these requirements and hold developers and government to account. If there is no independent body to allow people to challenge decisions that harm wildlife and nature's recovery, like poor planning decisions, or if the watchdog is weak, then local authorities responsible for making decisions about new developments would not feel so bound to conform to environmental laws.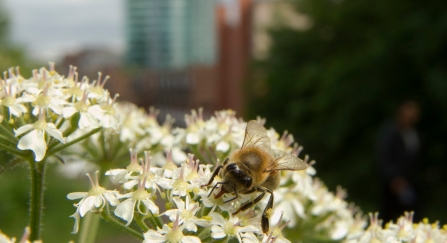 A Net Gain for nature
Under a Nature Recovery Network, new developments and infrastructure would have to enhance natural spaces and create new habitat and connections for wildlife, meaning there would be more, rather than less, space for wildlife.
We are already using this positive approach to help wildlife at specific sites in Surrey.
Priest Hill: Wasteland to wildlife

Working with developers, we created a brand new, 85 acre nature reserve at Priest Hill out of abandoned playing fields. In 2013, the development of a small housing estate funded the removal of 1000 tons of tarmac and rubble from the site, revealing a layer of chalk that has since been restored to valuable grassland habitat. Developers also funded the continued management of the new reserve.

Cooperating with developers led to a Net Gain for nature, by improving a site where wildlife was in decline. This more than offset the impact of the new houses, helped further our efforts to create a living landscape by creating a 'stepping stone' for wildlife between our nearby Howell Hill Nature Reserve and the Epsom Downs, and provided a new, nature-rich reserve for local residents.

Priest Hill demonstrates that development doesn't have to be at the expense of wildlife. With a Nature Recovery Network set out in law, this would be the picture for new developments across the county and across Britain. The creation of space for wildlife would be a central part of building new homes and commercial properties. Surrey would be wilder, and there would be more parks and greenery for us all to enjoy.
Ockham and Wisley Commons: Building bridges for nature

A prime opportunity has arisen at Ockham and Wisley Commons to create new heathland in cooperation with Highways England, who are committed to a major improvement of the M25/A3 junction.

To compensate for the works, the equivalent area of land lost to the junction will be converted from woodland and improved grassland into habitat-rich heathland and acid grassland.

We are also helping Highways England explore the possibility of two 'green bridge' connections across the widened roads that will reduce fragmentation by connecting the two commons.

Green bridges are just one example of how we can create a Nature Recovery Network through new infrastructure developments. By introducing green roofs to towns and cities, improving existing public spaces and greenspace to be more rich in habitat, and creating corridors for wildlife on farmland, we can increase connectivity in the landscape.