Have a blast outdoors this summer
With a month left of summer still to go and signs of unrest flourishing, we've come up with some hints and tips to help you get outside with your children this August.
Have a wild barbeque

Put a wild spin on your BBQs by toasting marshmallows on sticks from your garden. Non-toxic woods to fashion your sticks from include: birch, hazel, willow, hawthorn, dogwood, ash, maple, and elm.
Have a picnic

Picnics are a fabulous way of getting kids outside. Including treats or new foods or theming the picnic could persuade them to help with the preparations!

It could be a Teddy Bears' picnic or a wild picnic, with nature-inspired foods like hedgehog bread or ants on a log. To cause even more excitement, take the kids' favourite book along and have a reading session. Books that would be magical with the setting could include The Very Hungry Caterpillar or The Wind in the Willows. You can download wearable masks for beloved pals Mole, Ratty, Badger and Toad here…

Our top picks for picnic spots this summer are Newlands Corner, Sheepleas, Chinthurst Hill, and Chobham Common.

© Jon Hawkins
Grow vegetables

Get kids involved in the successful production of home-grown vegetables by building a garden wigwam and then planting partially-grown plants such as beans between the canes. They will enjoy being able to quickly reap rewards!

To make the wigwam:

Use six to eight canes per wigwam, between 1.5m and 2m in height.
Push each cane lightly into the soil, about 15 to 30 cms apart.
Gather the top ends of the canes together and tie tightly with string.
Chill out in woodland

Cool off in the shade of tall trees in our wooded reserves. Even in the hottest weather, a canopy of trees can become a cool haven.

© Surrey Wildlife Trust
Make your own seed bombs

Colour your garden with bright meadow flowers while providing instant entertainment for the youngsters!

In a bowl, mix together 1 cup of meadow flower seeds with 5 cups of compost and 2- 2 cups of clay powder (or clay soil).
Slowly mix in water until everything sticks together, then roll mixture into firm balls.
Give the kids the balls to throw at bare parts of the garden.
Go foraging

© Eden Jackson

It's blackberry season so if you have blackberries in your garden, inspire the kids with dreams of blackberry crumble and then get them out looking for them! Make sure to leave lots for the wildlife that will also happily consume them.  A good way to do this is to pick from the lower-hanging fruit, leaving the higher fruit for the deer and birds that can reach it. Nettles can also be turned into a tasty dish. Impress with how subdued the nettle is when combined with other veggies and turned into soup.
Play hide and seek

© Tom Marshall

The mature trees in our woodland reserves such as Newlands Corner make for excellent hiding places. Try varying the game by hiding more than one person at a time, or by setting a time limit for seeking. Make it more challenging by adding that each hiding place has to be a new species. Use the tree spotters' guide to help you identify the species you see.
Go pond dipping

Get your kids to have a go at pond dipping and record what they find!

To make a DIY net:

Cut the legs off a pair of tights where the tops of the thighs would be. Tie the loose ends together in a tight knot to form the net.
Bend a wire coat hanger into a diamond shape. Place your net in the middle of the diamond and fold the waistband over. Sew the hem.
Stretch out the hook of the hanger and secure to the garden cane, and then secure in place with duct tape.
Make a den

Build a den in the woods or at the bottom of your garden with fallen branches. If the day is a standard British summer one and it is raining, bring the 'wild' inside and supply the children with bed sheets or any other material fit for den-making.
Dissect owl pellets

Owl pellets can often be found on the ground under owl roosts and are fascinating to investigate to learn more about an owl's diet. To do so:

Fill up a tray a third high with water. Soak the owl pellets in the water for 10-15 minutes.
Gently tease the pellet apart with tweezers and look for small animal bones.
Separate out bones and put them on kitchen roll to dry.
To whiten them, soak the bones in 150ml of laundry bleach for an hour.
Lay them out on black paper and used a magnifying glass to take a closer look at what animals the owl has eaten.
Keep an eye out for bats on lighter nights

Sit out in your garden around dusk, as bats are more likely to be out at this time. Take simple measures like putting up a bat box and planting night-scented flowers like jasmine, honeysuckle and evening primrose to attract them.

© Dale Sutton/2020vision
Make a recycled hedgehog house

Hedgehogs typically hibernate from October/November to March/April. Build your recycled hedgehog house now so a hedgehog will be attracted into your garden by the sight of a cosy den.

Cut two side air vents (15cm by 5cm) and an entrance (15cm by 15cm) into a large plastic box (such as a storage container).
Put some leaf litter inside the box, with clean, dry grass or straw on top.
Tuck the box near a hedge (with the entrance facing south if possible).
Put an opened-up carrier box over the top of the box, then cover with twigs, dry grass and leaves.
Play Poohsticks

Norbury Park, Basingstoke Canal, and Guildford Town Centre are all great sites for this marvellous game!
Make your own bird-feeder

Why not recycle and help feed your garden birds at the same time this autumn? There are a few ideas below to help get you started…

The PB seed-tube method

Take a cardboard inner tube from a toilet roll and make a small hole at one end.
Thread some string through the tube so you can hang it from a tree branch or bird feeder. Then, using a knife, spread peanut butter all over the outside of the tube.
Pour some birdseed onto a plate and roll the tube in the birdseed.
Hang it outside for the birds to enjoy. Make sure you hang it in a place where you can watch the birds feast!
Once the seed is gone, make sure to remove the cardboard and string.

The recycled carton method

Take a juice carton and cut a large hole (about as long as a 1/3 of the length of the cartoon) in one side. Only make the opening big enough for the type of bird you are trying to feed (so as to avoid attracting predators like squirrels).
Break sticks to roughly 3 inches long and glue them along both top sides of the cartoon – like a roof.
Make a hole half an inch below the opening and insert a 6-7 inch-long stick for a perch. Glue the end of the perch to the inside back of the carton.
Fill with bird food and enjoy watching birds flock to inspect the new addition in their neighbourhood!

The egg carton method

Cut off the top of your unwanted egg carton and make a small hole in each of the four corners.
Cut two pieces of string, each about 12 inches long.
Pass the string diagonally through the holes and tie the ends into knots over the corners.
Add some bird seed, hang up and get ready to revel in your new bird feeder's success!
Write to your MP

Write to your MP. The more voices that are added to the chorus asking for a #WilderFuture, the better. Please ask them to support a strong Environment Act.
Make your own small mammal tunnel

Interest the kids in what creatures may be lurking unknown in your garden by making this small mammal tunnel.

Cut the top and bottom off 2 or 3 square-sided juice cartons so that they slide together to create a tube.
 Line the bottom with white paper and stick in place (using sellotape).
Cut a thin, clean sponge to size and place inside the margarine tub lid. Soak with food colouring and slide it to the middle of the tunnel.
Put bait (for example, dog or cat food, peanut butter, mealworms, seed) in a small dish, and place on the sponge.
Put the tunnel along a wall, fence or hedge. Cover with rocks, leaves and branches.
Leave overnight and check in the morning for prints.
Make a fairy door and a fairy garden

Kids who wish that the fairies they read about would appear will jump at the prospect of making a fairy door or fairy garden that might entice these beings into your garden. To make a fairy door, stick lolly sticks together to make a door and add a button or bead doorknob. Place the door against a tree. To make a (simple) fairy garden, put soil into a small container and add any decorations (such as toys, pebbles, twigs, flowers, small plants). Encourage your children to unleash their creative powers!
Make an insect hotel

Encourage pollinators and useful invertebrates into your garden with a fancy dwelling-place, made from recycled materials.

Place a wooden pallet in your chosen location. On top of the pallet, line bricks around the corners and across the middle. If you don't have any, consider asking at builders' yards and industrial sites for free pallets.
Place your next pallet on top of this and repeat the process for all of your pallets.
Cut off the top two-thirds of some plastic bottles. Fill up half of them with bamboo canes and the other half with rolled up cardboard. Place these inside the hotel.
Fill the remaining spaces with bricks, leaves, pebbles, stones, tiles, loose bark and straw.
Add in any extra materials that you want to recycle e.g. old pipes, carpeting, toilet tubes, and old plants. Give your creation a name.
The trail with a treat

Laying a trail using fallen sticks or flour with a treat at the end is a great way to incentivise youngsters to go outside.
Schedule a scavenger hunt

Make a list of six or twelve things you might find in a wood. The spotter guides in the link below can tell you what to look out for, or you can simply use colours to match against.

Stick the list inside the lid of an egg box and ask your family to collect the items in the egg box. Everyone loves a prize so make it a game they want to win! And please return all of the finds back to the wood afterwards. 
Upcoming children's events
More things to do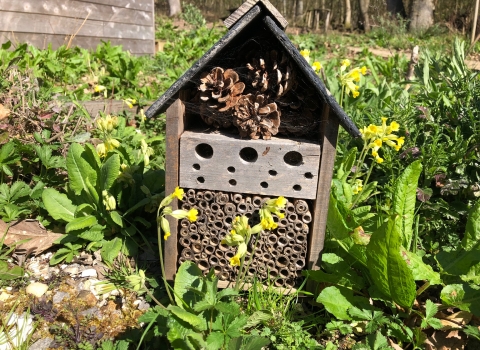 Wildlife gardening
Help wildlife at home this summer with our wildlife gardening tips