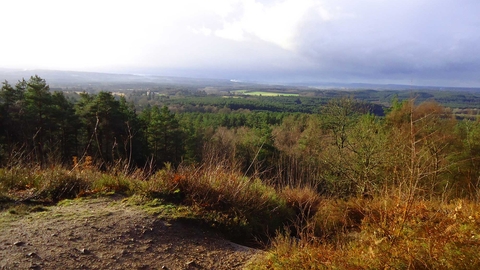 A wooded hilltop with stunning views and a Scheduled Ancient Monument. Public access managed by Surrey County Council, conservation managed by Surrey Wildlife Trust
Know before you go
Parking information
Car park off Botany Hill, The Sands
Access
Public access managed by Surrey County Council, conservation managed by Surrey Wildlife Trust
Not suitable for wheelchair users or those with limited mobility.
When to visit
Opening times
Open all year round
Best time to visit
April-October
About the reserve
The view from the top of Crooksbury Hill is well worth the hike up to the summit! On a clear day there are stunning views over southwest Surrey and east Hampshire, across to the South Downs. Steep steps lead straight to the summit, or you could choose a more gentle path following the side of the hill.
The site has a mixture of woodland, open glades and heathland. The sandy soil suits a range of special plants, including heather and bilberry. This sand also makes for easy, mud-free walking.
The site has not always been wooded. Most of the trees are relative youngsters. The hill used to be part of CrooksburyCommon – a large area of heathland. Local commoners collected wood and gorse for fuel, and grazed their animals. Then in 1848 the area was enclosed. Landowners fenced it, stopping the locals using it. Trees were planted on parts of the site. The patches of heather are the only remnants of how the hill once looked.
Soldier's ring, on the northern side of the hill is a Scheduled Ancient Monument. The hill fort's age is debated. It may date from the late Bronze Age or early Iron Age. It could have been built later though, as an outlying defence of the 12th century Farnham Castle. It is now covered in trees, so it is difficult to see how commanding its views would have been.
Species
Habitat